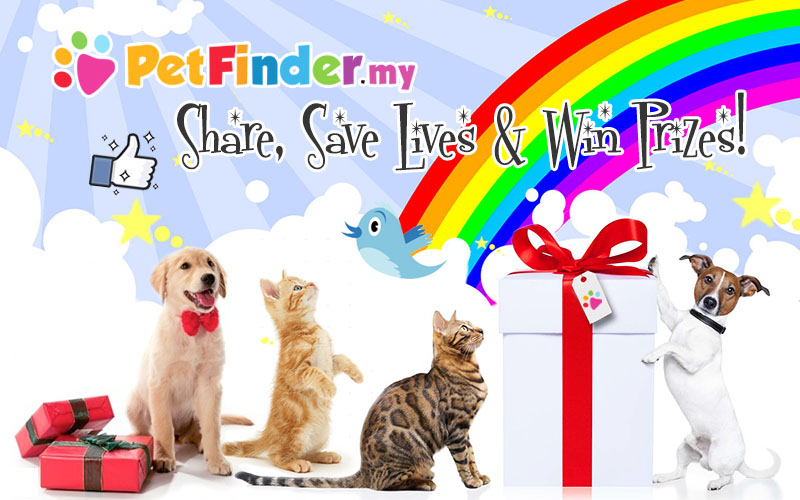 It's Christmas, the Season of Sharing & Caring!

Let's show our care for thousands of homeless furries out there. Simply click and share PetFinder.my's pets for adoption, and you're in the run for attractive prizes by Royal Canin!

Winners are determined by the most friends referred to pet profiles. Sweet and simple, right?



Attractive Prizes by Royal Canin



Get Started In 3 Simple Steps!
1. Sign Up / Log In




| | |
| --- | --- |
| Already registered? Login here. | Not a member yet? |




2. Share & Care!

Share pet adoption profiles with just a single click! Make sure you click on the or buttons within the pages to correctly share using your member tracking links.






Login To Begin Sharing
3. Check Your Ranking!

Find out how many friends you've referred. The more you refer, the more precious lives you save!

The ranking and statistics are updated on an hourly basis. Figures displayed are not final. You will only have a rank if you are within the Top 50.

Tips: Share pet profiles daily to increase your winning chances!


Login To View Stats
* Ranking & stats are refreshed on an hourly basis. Figures displayed are not final.




Contest Rules & Terms
Contest is open to residents in Malaysia, from 1st Dec 2016 to 11:59pm 31st Dec 2016
Each contestant may only share links using One (1) PetFinder.my account
Contestant will be disqualified if fraudulent traffic or duplicate accounts are detected
Top 3 winners of World Animal Day 2016 contest are not eligible for participation
Statistics and rankings displayed here are not final and may be adjusted
Judges will select winners based on number of friends referred to the shared pages, and decision is final
Winners are required to show their social media shares, and failure to do so may result in disqualification
Winners will be notified by email during the 1st week of Jan 2017
Pet food supply is for One (1) single dog / cat only
Prizes will be posted by Royal Canin to winners
Contest organizer & sponsors may contact winners for follow-up promotions
PetFinder.my reserves the right to amend contest rules or disqualify participants at their sole discretion


Questions or Problems?

If you have any questions regarding the contest, or are encountering problems joining it, please write to us for further assistance.


Copyright © PetFinder.my, 2008 - 2018. All rights reserved.