The Spirit Of Giving - From The Bottom Of Our Hearts "Thank You"
Dear All
Greetings of the seasons.
How time flies – first it was Christmas, then New Year and followed by Chinese New Year.
While everyone was busy celebrating with their families and friends over the festive seasons, our dogs were not forgotten – they had a wonderful Christmas celebration, many thanks to our kind sponsors for making it 'pawsible' by sponsoring log cakes and cookies. The dogs had a jolly good time.

During the last 4 weeks – we have been helping people and their animals. We have some new residence at the shelter - Rosie and Rover, a pair of Golden Retrievers. Due to family issues, through no fault of theirs, their mummy could no longer keep them and they are now in safe hands with us. Same time, Mimi (a Labrador), Jacky and Tina (a pair of Cross Labradors), had also seek shelter at Zeus Residence when their expat owner left them behind.
On a side note, I am pleased to say that both Rosie and Jacky had done a good deed. It was sometime in January, they donated their blood to save the life of their fellow furry friend.

Yesterday afternoon, we had some students from St. Nicholas Convent which visited the shelter with their family and friends. We took this opportunity to bring the doggies to Pasir Ris Park for a leisurely stroll and everyone had an awesome time.

We would need more volunteers who could help us walk our furry friends. If you are interested and want to join us for a woofy afternoon stroll in the park in February (date to be confirmed), please do drop us an email with your name and contact details at: dogstalk@starhub.net.sg.
We look forward to seeing you and have a pleasant week ahead.

Best Wishes.
Lynda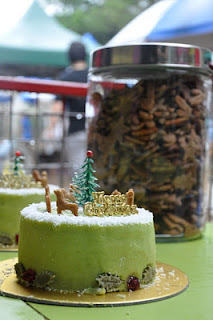 Christmas Cake made of meat loaf and 2.5kg of cookies donated by well wishes.
Christmas Cakes & Cookies baked with love by Elizabeth, Margaret and their family members.
?

From left: Batman, Robin and Spider Man our Super Heroes sharing the Christmas Cake with Junnie (our water dog who loves swimming)
?
?

Christmas Cake gone in less than 3 mins. "Yummy!!"
?

The dogs are making sure that nothing gets left behind.
Margaret and Michelle cutting the cakes and ensuring that all the dogs get equal share.
Volunteer serving our kidos.
??

The dogs waiting patiently for Ida to serve them.
??

Contented Dogs.
Candy (left) "Hey Baby Sis, we better eat slowly and enjoy it – we have to wait for the next Christmas to taste this again."
Bobby (left) sharing the Christmas Cake with Blossom
?

Rover (on the left) "Aunty Elizabeth, could I have some more Christmas Cake please?"
?

Doggies eating the remaining cake.
Elizabeth "I will give your cookies soon darling."
Source: http://zeuscommunications.blogspot.com/2012/01/spirit-of-giving-from-bottom-of-our.html



Facebook Comments