Dawn's Doggy Diary [ Part 1 ]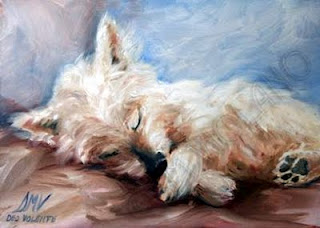 Yes, today I am an abuse survivor, actor, model, celebrity spokesdog and animal welfare activist and have a human guardian who adores me, but this was not always the case. This is my diary that I am sharing with you in weekly installments.

I was lying around in my cage at PAWS feeling sorry for myself. I was three and a half years old, and what a sorry state my life was in. For a society that called itself "Animal Lovers" Malaysians certainly were not very animal friendly.

Since I had been abandoned by my owners for my skin disease, I had been caged up here and left pretty much to myself. Yes, they did feed me boiled rice and a little bit of meat but I was dirty and unwashed.

I had to wee wee and poo poo in my cage in full view of the other dogs. Not very ladylike, let me assure you. The male dogs would bark lustily at me and wink at each other knowingly. *sheesh*

The people at PAWS would hose down my cage once a day. I was given medicine for my skin rash, a condition called Demodex. I had to resort to biting my own front paws to ease the itchiness until I lost all my beautiful white fur and my skin turned red and swollen. I was dirty and I stank to high heaven.

So you can imagine my surprise when an old and balding Punjabi guy came with a Chinese girl and actually paid RM300 to bail me out of jail. I mean, I didn't know them from Adam! And I was brought up as a proper lady – I wouldn't follow any Tom, Dave or Harry home just for RM300, now would I?

It looked like I didn't have any choice in the matter as this guy just literally picked me and held me tight to his chest and took me into his strange metal box with four wheels which moved very fast. The Chinese girl was in control of the machine and from what I could observe in that short time I deduced that she was his master as he listened patiently to her and obeyed all her commands.

Very soon the metal box stopped moving and I was smuggled into a knapsack and taken into another metal box but this one moved upwards instead of forwards. I heard a *Ding! Eight Floor* and then we were in a nicely furnished condo unit. The Chinese girl said "Shh! Good Doggie. You don't bark, ah? Dogs are not allowed in this condo."

I thought to myself "Hello! Is that my problem? You bloody dognapped me and smuggled me in here!" but then I took a good look at her and then I looked at the poor hen pecked Punjabi guy and then I looked back at her and she looked kinda fierce so I decided to keep quiet.

The next thing I knew I was in a small room and the Girl was bathing me with warm water and shampoo while the Guy held me gently to prevent me from shaking the water off. He washed the insides of my ears which were black and smelly with earwax.

Then they rinsed me and bathed me again with a mild antiseptic solution. I could hear the skin eating mites scream as the antiseptic hit them. MMmmm! That felt good. I didn't struggle as I was enjoying myself. I liked to be clean. Maybe these two cartoon characters were not so bad after all.
Facebook Comments