RM200 vs RM500 Spay: The Difference, Part 2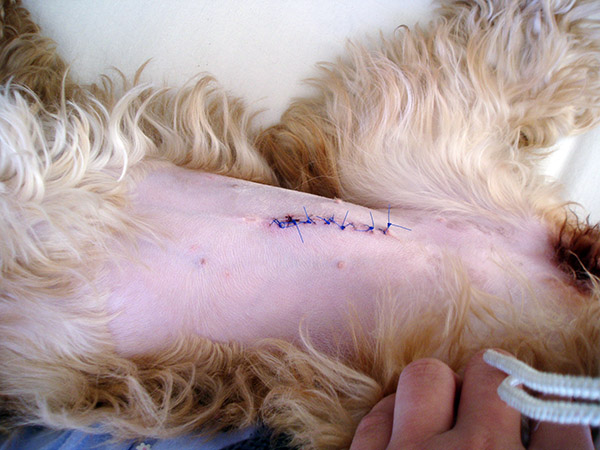 In Part 1, we've taken a look at what Spaying is and the RM 500 Spaying procedure. Now, we'll examine what constitutes a RM 200 Spay.
The RM 200 Spay
You call to enquire about the cost of spaying a female dog. The receptionist tells you it costs 200 so you book it in for tomorrow. When you arrive the next morning, the receptionist asks if you fed the dog this morning to which you reply yes. She acts shocked and surprised that you didn't know you have to fast the dog before surgery. You explain that this is your first time owning a pet. She then grumbles and says she will squeeze you in and do the dog last. You feel grateful she is doing you this favour.
The dog is taken out the back and left alone till its time for surgery. She is then sedated heavily, a mask is put on her face and she is given an anesthetic gas to keep her asleep. The surgery is done by the vet in 15 minutes and he uses suture material that is absorbable but puts stitches on the outside of the skin. The dog is then moved to the recovery area to wake up.
When you come in the evening to pick up the dog, she is still very groggy and unable to walk. You have to carry her into the car. The whole night she is uncomfortable and won't settle. She is also constantly licking at her incision. By morning you notice that she has chewed off one of the stitches so you call the clinic. They tell you not to worry but to come and get an e-collar. The dog takes about 3 days to fully recover from the surgery.
So, let's summarize the difference between a 200 and 500 Ringgit Spay.
| | |
| --- | --- |
| RM 200 Spay | RM 500 Spay |
| Staff that are average | Highly skilled staff |
| No health exam prior to surgery | Through health exam prior to surgery |
| No optional extras | Offers IV fluids and blood test for owners to make informed choices |
| No pain relief prior to surgery | Pain relief prior to surgery |
| Minimal or no anesthetic monitoring | Modern anesthetic monitoring machines |
| Uses anesthetic gas that takes a long time to leave the body | Uses the same anesthetic gas that is used on humans, safer and effects quickly wear off |
| External stitches – can be removed and sometimes causes irritation. Needs to be removed in 14 days. | Internal stitches – dog is unable to chew at it and usually does not cause irritation. No need to come back for removal. |
| No pain relief after surgery | Pain relief after surgery |
| Sent home with no care instructions | A vet personally discharges the animal and explains how to care for the dog as well and dispensing some pain relief tablets to take home. |
End results of both spays are usually the same. Most of the time there are no complications and we are none the wiser as to the difference. However, if things are to go wrong, it is much more likely to occur with the cheaper spay. Also, some people would like to be given the option to choose the best for their pets. It is important for all owners to be informed and be given the option to choose the level of care that best suits them.
Facebook Comments