Can A Dog Really Clean His Teeth?

Many people recognize a nice smile as an indication of a happy, healthy person. However, while dogs can't smile the way we do, the same is true for them.
Healthy teeth and gums and fresh breath are great indicators of a happy, healthy dog. In fact, dental hygiene is just as important to dogs as vital is to us.
Now, your dog can brush his own teeth with Eukanuba 3D DentaDefense™. Featuring dual action technology that helps to reduce plaque and tartar buildup, your dog can simply chew his way to optimal oral health as it cleans with every bite.
Dogs need dental care too
Dental disease is probably as common and painful for dogs as for humans; in fact 85% of dogs have signs of dental health issues by the age of three1. Since dogs do not have the ability to communicate their discomfort, many dental problems are overlooked and many dog owners seem to simply expect their dogs to have bad breath. Only 10% of owners brush their dog's teeth regularly, while dental disease in dogs is the number one most reported health issue to vets. The main causes are similar to the reasons that humans develop dental problems.
Cleans with every bite
Eukanuba 3D DentaDefense™ features dual action technology that cleans with every bite. The new shaped crunchy kibble, with increased surfaces, is designed to reach more2 of the tooth surface to scrub away plaque — even in those hard to reach areas; while micro-cleansing crystals help to keep tartar forming materials from depositing on the tooth and therefore reduce tartar build-up by up to 80%3.
Eukanuba is the ONLY PREMIUM DOG FOOD BRAND offering total dental care across its range of Adult & Senior retail and Veterinary* dry diets. Eukanuba 3D DentaDefense™, dual action technology provides dental protection while still delivering a full range of nutritional benefits with every meal, whatever your dog's size, age or lifestyle. Feeding with Eukanuba 3D DentaDefense™ means that there's no need to feed special dental care diets.
Eukanuba 3D DentaDefense™ helps make it easy for you to look after your dog's oral care and so his health and, while he can't smile to thank you, seeing him happy and healthy is sure to put smile on your face!

Dr. Peter Fahrenkrug (Dentist, Veterinarian and Board Certified Veterinary Dentist, Dipl. EVDC), says:
"Food and bacteria build-up on the teeth forms plaque. Plaque then builds up on the teeth and hardens into brown tartar. This causes bacteria to colonise in these areas and harm the teeth and gums. Bad breath, gum inflammation, oral pain and tooth loss can then occur. If left untreated, it can allow bacteria into the body through the blood stream and cause infections elsewhere, potentially causing problems to major organs, such as the heart, and kidneys. Therefore, good oral health is important for the overall health of your dog and it lays entirely in their owner's hands."
To ensure the good oral health of your dog, Dr. Fahrenkrug recommends that you:
1. Have regular dental checks with your vet and professional cleaning if necessary
2. Apply dental care at home by brushing your dog's teeth daily
3. Feed your dog with a diet that has proven dental benefits, like Eukanuba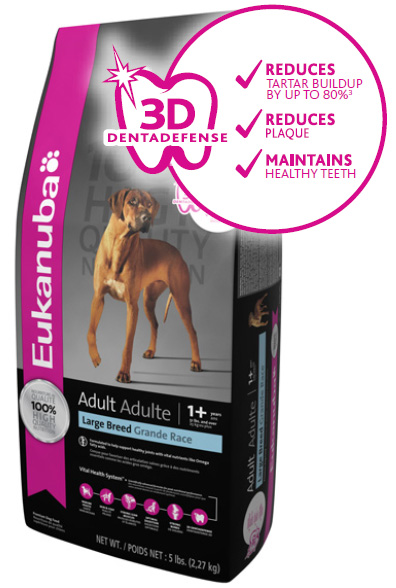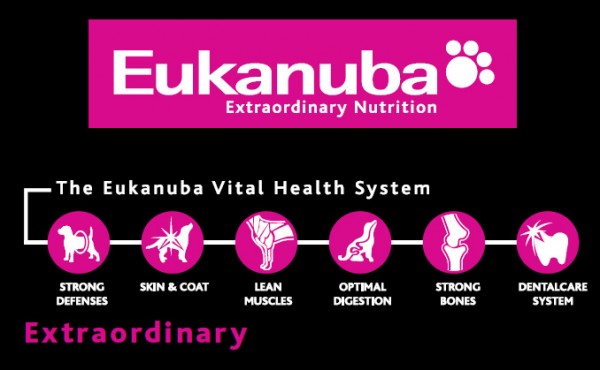 Footnotes:
1   Wiggs RB Periodontal disease in age categories of dogs and cats. Proceedings 11th Annual Veterinary Dentail Forum, Denver CO 1997, pp. 143-144; Niemiec BA, Periodontal Disease and Therapy. Scientific proceedings BSAVA Congress 2005:253
2   Versus previous kibble
3   Results in dogs may vary, formulation not in Puppy food
*   Except EVD Renal



Facebook Comments