What Do You Think? Share Your Views And Lets Work ..
What do you think? Share your views and let's work together on stricter regulations 👍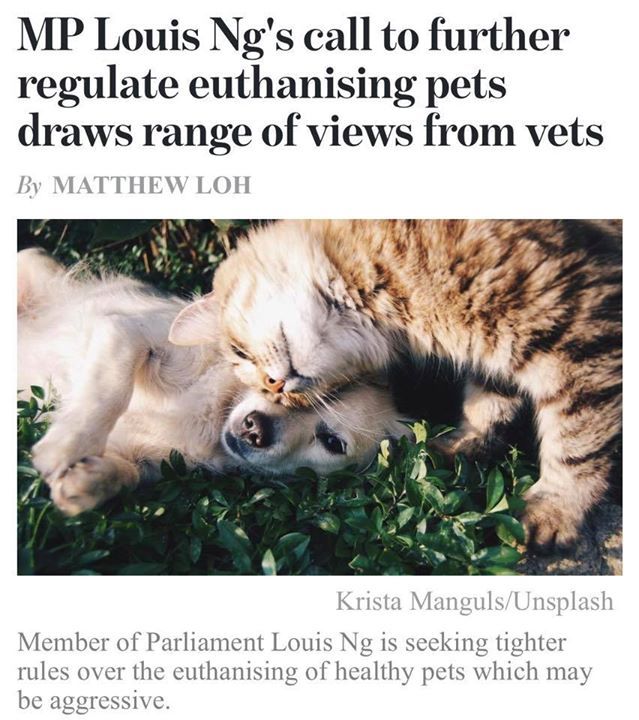 [ "Pets Euthanasia" in Parliament ]
I've filed my Parliamentary Question.
I know many are upset by what they have read about Loki. Questions have been raised. Was Loki aggressive? Did the owners engage a trainer? Did they try to rehome Loki?
Some also shared about Tammy, the puppy who was euthanised despite being healthy. The owner said she had "Tammy euthanised because it was aggressive and had bitten her family members". Almost 7 years ago, I spoke up for Tammy (https://www.facebook.com/photo.php?fbid=10151998553494884&set=a.244934484883&type=3).
I will ask the Minister for National Development with regard to people seeking to euthanise their healthy dog or cat, whether the Ministry will make it compulsory for them to (a) produce documented proof that they have (i) attempted to rehome the animal and (ii) received certification from an AVS-accredited trainer that the animal, if aggressive, is untrainable; and (b) for veterinarians to wait for a pre-determined length of time before euthanising the animal, during which the animal's details are published on websites of NParks and animal welfare groups to facilitate rehoming.
What do you think?
I know that these proposed measures might cause some inconvenience to people wanting to euthanise their dog or cat, but they are necessary to ensure that we exhaust all available options before taking the life of a healthy animal.
The proposed measures will reduce the grey areas when it comes to euthanasia, and this will help all parties involved.
Do let me know if you have any other suggestions. I will do my best to speak up for the voiceless ❤️
Do also help share and spread the word 🙏
Lastly, AVS is aware of the Loki incident and is investigating. Let them complete their investigation. Please avoid doxxing the parties involved. We should not suggest that any of the persons involved, were in any way to be blamed, without finding out the facts.
For now, let's stay calm and focus on working together on whether regulations need to be tightened.
Do also see: https://www.todayonline.com/singapore/some-vets-feel-call-mp-louis-ng-regulate-euthanasia-healthy-pets-may-not-be-necessary
#LouisNgParliamentaryQuestions
#WeLoveNeeSoonEast
#NeeSoonCares
#HomeWithAHeart

Source: https://www.facebook.com/LouisNgKokKwang/photos/a.1173961022..
Facebook Comments