Appeal For Information - 1,000 Reward. The Spca Is..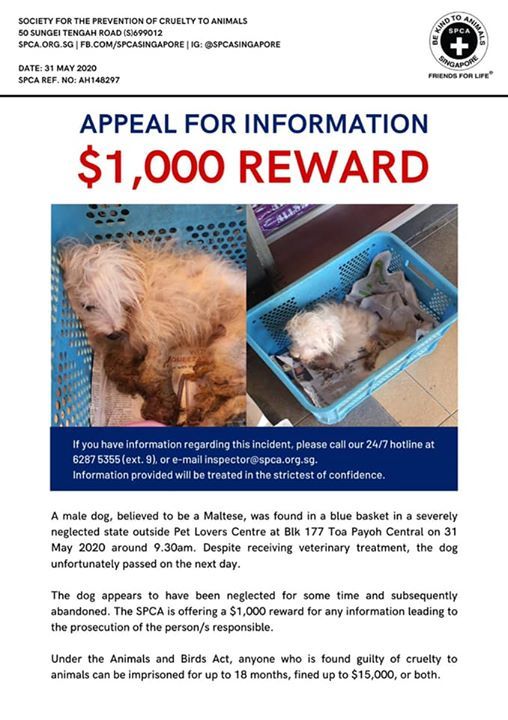 APPEAL FOR INFORMATION – $1,000 REWARD
⠀⠀⠀⠀⠀⠀⠀⠀⠀
The SPCA is investigating a case of suspected pet neglect and abandonment. A male dog, believed to be a Maltese, was found in a blue basket in a severely neglected state outside Pet Lovers Centre at Blk 177 Toa Payoh Central on 31 May 2020, around 9.30am. Despite receiving veterinary treatment, the dog unfortunately passed on the next day.
⠀⠀⠀⠀⠀⠀⠀⠀⠀
The SPCA is offering a $1,000 reward for information leading to the prosecution of the person/s responsible.
⠀⠀⠀⠀⠀⠀⠀⠀⠀
Anyone with information can call our 24/7 hotline at 6287 5355 (ext. 9), or e-mail inspector@spca.org.sg. Information provided will be treated in the strictest of confidence. Under the Animals and Birds Act, anyone found guilty of cruelty to animals can be imprisoned for up to 18 months, fined up to $15,000, or both.

Source: https://www.facebook.com/spcasingapore/photos/a.101520126853..
Facebook Comments