背负20万债务 每月开销17万 Hope希望护生园要筹50万|中國報
感谢中国报的爱心报道!❤️🙏
HOPE 2022【疫起盼曙光】慈善晚宴
目前热烈售票中,恳请大家踊跃支持,帮帮园区度难关
内文已有票价详情和购票链接,如不熟悉在SHOPEE购票的朋友欢迎PM我们购买
每一次救援等同于把一条生命扛在肩上,救援不是一两天的事,而是毛孩一辈子、10多年的事
如无人领养,不管眼下局势多糟,我们也势必照顾这3,000多只孩子到它们生命的最终一刻
………
无法出席但愿意支持这份善念的朋友,您也可选择爱心捐款至 (可扣税)
MAYBANK 5012-0861-9867
Persatuan Perlindungan Dan Peliharaan Haiwan Terbiar Skudai
或 国际捐款:
PAYPAL账号 – payment@hopejb.org
………
谢谢大家的爱心支持!
*********************
Thank you for the kind report of The China Press! ❤️
HOPE 2022 "The Ray of Hope" Charity Dinner
Hurry up grab your tickets now, we plead for everyone's support to help us to overcome the difficulties 🙏
There are ticket details and purchase link in the article. If you are not familiar with buying tickets in SHOPEE, please PM us to purchase.
Every rescue is equivalent to carrying a life on our shoulders. Rescue is not a matter of a day or two, but a life-long, 10+ years matter of the rescued animals. If they're not being adopted, we are bound to take care of these more than 3,000+ rescued furkids to their last breath.
………
If you're unable to attend the dinner but wish to support our cause, you may kindly make any amount of kind donation to
MAYBANK 5012-0861-9867
Persatuan Perlindungan Dan Peliharaan Haiwan Terbiar Skudai
(Donation is tax-deductible, TQVM)
International Donation:
PAYPAL Acc. – payment@hopejb.org
………
Thank you very much in advance for your kindness and support.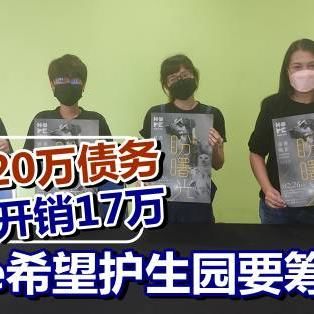 (新山18日讯)疫情令Hope希望护生园带来不小冲击,背负20万令吉的债务,每月该园开销费高达17万令吉,希望护生园决定在疫情好转之际,将于2月26日举办"疫起…

Source: http://johor.chinapress.com.my/?p=963413
Facebook Comments