PET PROJECT MALAYSIA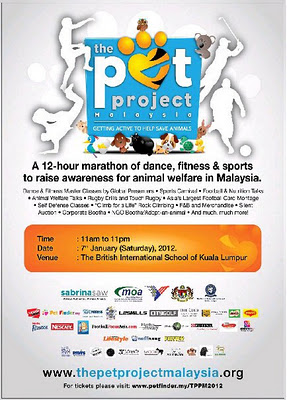 Dear all,please come forward and support this awesome programme that is being organised by Sabrina Saw in collaboration with The British International School of Kuala Lumpur on Jan 7th (this Saturday). There are a lot of interesting activities from 10.00am to 11.00pm and proceeds from the event will go to SPCA, PAWS, MDDB, Scratch, Animalcare, Paws Mission, HOPE, Save A Stay, Independent Pet Rescuers and Zoo Negara.Tickets can be obtained at http://www.PetFinder.my/TPPM2012/ or at the door.
http://thestar.com.my/metro/story.asp?file=/2011/12/15/central/10062866&sec=central
We also had a Q and A session with Sabrina which we are posting here.
MDDB: Why are you organising the event?
SABRINA: When I moved here two and a half years ago, I was shocked to experience people spitting and hissing at me for walking my dog in what was supposed to be a civilized part of town. I have since seen so many cases of animal abuse (be it cats or dogs) in public, on social media, in the papers, on the news…. And every time I saw or heard about such cases, I felt quite helpless and didn't really know what I could do to help.
I think I realized six months ago that I couldn't have been the only person out here who wanted to help but didn't quite know how to. I didn't know much about animal welfare here or what has been done and what hasn't but I knew I wanted to help… and so I began to organize this event in hopes of creating a sort of platform for people to enjoy themselves (and be healthy) but learn at the same time about animal welfare (and things they can do to help). To me, everything is a brand. And with all brands, you need good marketing to generate "business".
I think most people are so aware of all the atrocities of animal abuse here and they associate the cause itself so much with anger and hate, it has become one of those issues that people generally tend to "sidestep" because they feel uneasy. I feel so uneasy every time I see a horrific abuse case it makes me want not want to read on about it. This doesn't mean I don't care, it just means I physically and emotionally cannot handle it. It is heartbreaking and I can understand how angry people are every time there is a case of violence towards animals. But if people feel uneasy and cannot physically bring themselves to even look at what's happening in our society, how are they supposed to want to make an effort to learn more about how to contribute towards the cause? Since I have been here there have been quite a few memorable abuse cases including the KTM dog, the video of the woman stomping on the cats, the video of the man beating his poodle, the shooting of dogs… and quite recently the Petknode TRAGEDY. As a teacher and someone who works with children a lot of my time, I was instantly aware of all the profanity and hate going around and what kind of message it gives to our children. There were even celebrities passing on the message to everyone to stay angry and that being angry is the only way forward. I think it is important to feel passionate about something, and it is not natural to be unfazed about something so horrific… however, I also think that our younger generations need a bit more nurturing than just being told to be angry.
They, and the rest of us as well, could perhaps make do with a bit of positive reinforcement. It's like when you're in any relationship (be it with a loved one, or within your family… or even with your pets). When he/she does something you appreciate, you commend them and they in turn feel fantastic and become a better person for it. So I guess I wanted to do a charity event for a cause I feel very strongly about by reaching out in a positive and proactive way. I think people are more inclined to listen up and learn about the cause if they are in turn feeling great J.
MDDB: What do you hope to achieve?
SABRINA:I hope for our community to learn more about animal welfare, especially our younger generations, as they are our voices of the future. I hope that long-term we are able to really make a difference by providing for our community something fun and meaningful every year – we have already confirmed major sponsors for next year so we can expect to see this be a yearly event.
In terms of the funds we raise on the day itself, I believe we can expect to see growth in the amount as the project continues… by working together with so many fantastic sponsors and partners, we are also able to help build bridges so that we can do more for the cause on the other 364 days of the year. I hope people will see the joys in "Getting Active To Help Save The Animals" and come again year after year!
MDDB: What is your fervent wish for the dogs and cats in Malaysia?
SABRINA: I really wish as a society we are able to provide for the dogs and cats in Malaysia, loving homes, food & shelter if they need it and the right to live in peace. I don't feel it is right to take the life or abuse any animal and I would hope that all Malaysians can see dogs and cats as beings deserving of compassion and care.
MDDB: How do you think animal welfare groups can be more effective in battling companion animal abuse here?
SABRINA: One thing I have noticed from speaking with all the different NGOs on board is that education really is key. There is so much amazing work being done at the moment by all of the NGOs out there but there are so many people in Malaysia. The lack of resources, funding and manpower makes any brilliant plan difficult to execute fast enough.
I do not know exactly what has or hasn't been done so far but there is a lot to be said for the sheer willpower of the NGOs. It really is amazing how much strength and passion there is – I think as long as there is hope and will, there's definitely a way. Educating our society is what I believe everyone agrees is essential – for the sake of our futures, I believe educating our youth is equally important.
COME MEET US THERE. WE'LL ALSO BE HAVING AN ADOPTION DRIVE AND MERCHANDISE SALE AT THE EVENT.
Source: http://feedproxy.google.com/~r/MalaysianDogsDeserveBetter/~3/yuac8NpwSL0/pet-project-malaysia.html



Facebook Comments