ADOPTION DRIVE SAT AND SUN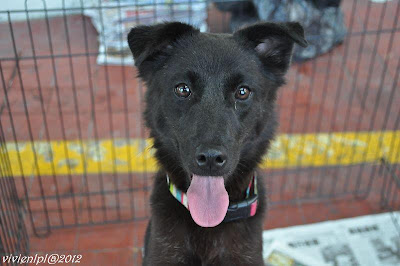 BEAUTIFUL Sheeba was found abandoned in Klang a few months ago by canine welfare project Malaysian Dogs Deserve Better (MDDB).
MDDB coordinator Christine Lai said the good-natured and playful Spitz-cross dog was depressed when found but has already 'cheered-up' and ready for adoption.
"She must have been missing her owners who had dumped her when she was about six months old,'' said Lai adding the Sheeba was now almost a year old and already neutered.
Sheeba will be among the many dogs and puppies that will be put-up for adoption by MDDB this Saturday and Sunday.
The adoption drive on Saturday will be held between 11.00am to 5.00pm at Kota Alam Shah assemblyman M. Manoharan's service center in Klang.
The service centre is located at 7A, Persiaran Raja Muda Musa and is between the Klang traffic police contingent headquarters and Hin Hua High School.
MDDB's adoption drive on Sunday will be held at Jaya One, Petaling Jaya.
The event will be held from 10.00am to 6.00 pm at Block NB1, facing Station 1 and Old Town White Coffee.
"We have many puppies and dogs that are looking for homes and we can only take in more rescues after these have been rehomed,'' said Lai adding that she hoped more people will come forward to adopt older dogs.
She said the older dogs have been neutered.
Meanwhile, Manoharan said he is backing MDDB's call for the Selangor state government to give the Trap-Neuter-Release-Manage (TNRM) system a try.
"There's no harm in trying given that the current method of catching and euthanizing strays appears not to be working out well,'' said Manoharan.
He said this was evident in the big increase of strays not only in Klang but elsewhere as well.
According to Manoharan when an old method begins to lack efficacy, the right thing to do would be to try new methods.
"The state government and the local councils in Selangor should seriously give TNRM a try,'' he said.
Under the TNRM method strays would be caught, sterilised and released back to where they came from.
This would drastically decrease the number of strays as the dogs would not be able to reproduce anymore.
MDDB is also in need of necessities like dog, puppy, cat and kitten dry and canned food, rice, dog and cat shampoo, bleach, soap and old newspapers.
Those wanting to donate these items can drop them off at the adoption drive.
MDDB's merchandise will also be made available at the Jaya One event.
For details, visit www.malaysiandogsdeservebetter.blogspot.com or e-mail malaysiandogsdeservebetter1@gmail.com or call 019-3576477 , 012-373 9007 or 012-205 2906.


Source: http://feedproxy.google.com/~r/MalaysianDogsDeserveBetter/~3/OHUeMzGBf6U/adoption-drive-sat-and-sun.html
Facebook Comments