OUR DOGS READY FOR ADOPTION 1
We have many many dogs that are in need of homes at the half-way-home. Photographing them is a challange as it invloves caging, chaining, grabbing and wrestling. Anyway, today we present our first segment of rehabilitated dogs that are up for adoption. If you are keen on giving any of these dogs a good, secure and loving home – please call 019-3576477 or email to malaysiandogsdeservebetter1@gmail.com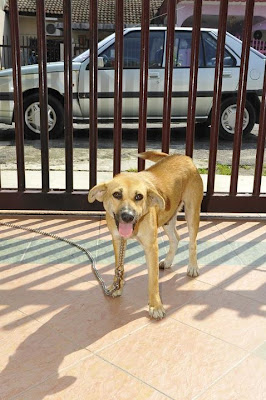 This is Laxmi and she is our resident GRO. Laxmi was rescued together with four of her puppies, all of which have been adopted. She has been spayed and vaccinated. Laxmi is very friendly and loving and is enjoys nothing more than being cuddled. She is adorable.

Fredo, was found lying down near the security post at the Klang Pantai Hospital. The security guards there were feeding him. We brought him back and found that he was running a high temperature and we believe he had spent many days in the rain. he appeared to be a lost or abandoned pet. he is a big dog and is a lovable clumsy oaf who loves to be hugged.He has been castrated and vaccinated.

Kapi of Kapar was from a litter of five pups we rescued together with the mother. The mother had severe skin disease and was completely hairless. All the puppies were okay except for Kapi who also had skin disease. Her mother has since gone to stay in one of our friend's sanctuary in Raub and her siblings have all found homes. Kapi is fine now and is a loving, happy fun-filled dog. She is a talking dog and its really entertaining when she tells a story.

This is Pavitra Pavlova and she was rescued with her 10 puppies by Mandy Chee's brother-in-law in Northport. She is a beautiful loving dog that will bring much joy to anyone who adopts her. She is also a talking dog like Kapi of Kapar and both spend hours talking to each other daily. Not advisable to adopt them together.

This is Marie – we found her wandering in Klang when she was about 5 months old. She was mangy then but has fully recovered. She is quite serious but gets playful when with other dogs. Good guard dog for homes.

Nana, was rescued scavenging along with her five puppies. Her puppies have also been adopted and she has been vaccinated and spayed. She is a very loving and genteel dog and would make a perfect for an elderly individual or couple. She has little demands other than wanting her head stroked when she places it on your lap.


Source: http://feedproxy.google.com/~r/MalaysianDogsDeserveBetter/~3/1km-Ov8aC6U/our-dogs-ready-for-adoption-1.html
Facebook Comments