Nikita Looking For A New Home
Nikita is a survivor. Yet another victim of reckless driving, she was saved by Sonia's family but she is now paralyzed from her hips down. Here's her story. Please help us look for a new home for Nikita.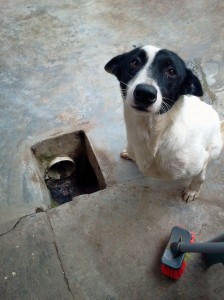 Hi my name is Nikita. I am a female dog. I have tiny eyes and I have black patches and white fur on my body.
How was I found? Good question. Now the story starts . When I was trying to cross the road somewhere near Puchong area, some car KNOCKED me to the side of the road. Then a lovely lady and her name is Dheema, saw me at the side of the road. She could not stop to help because she was on the fast lane.
When she reached home she talked about me to her husband, Thiru. Dheema and Thiru then decided to drive back to where she saw me to look for me. When they reached that place, I was nowhere to be seen. Then Thiru said, ďLetís look inside this huge drain nearby.Ē
Sure enough, I was there. I was so happy that they found me because I was too weak to even whimper for help. Thiru got into the drain and picked me up with his bare hands. They put me in the back seat of Dheemaís car and drove me straight to their family petsí vet.
The vet said I was paralysed and thought I was too badly injured to be saved. Thiru and Dheema did not take no for an answer. They brought me home, cleaned me up, gave me some water and lots of care that night. I fell asleep soon after.
For two weeks after that, Thiru, Dheema and their daughter Sonia nursed me back to health. Today I am still paralysed because my back was seriously injured during the accident. But my front legs are working fine and I am very active.


I have a comfortable place at the backyard. I am so loved by this family. I am the happiest dog on earth ! Woof Woof Hooray !
But I desperately need a new home now because the neighbours just donít like me. They say I bark too much and I am a nuisance. Please take me home and love me. I hope I have a good owner but I will miss all of Soniaís family!
You live near Puchong or in the greater KL area and are willing to give Nikita a new home or wish to get more information about her? Please contact LASSie by email at info@langkawilassie.org.my or by phone : 04 955 7561. We can also be reached through Facebook and Twitter. Thank you!
Source: http://www.langkawilassie.org.my/blog/adoption/nikita-looking-for-a-new-home/



Facebook Comments