Nugget's Playtime With Butch, Wanda And Poppet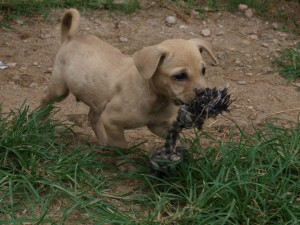 Our little Nugget is still looking for a good home!
He has grown in the last two weeks, and his wound has completely healed. A small scar remains but will disappear with time and once his fur grows back to cover it.
Nugget is fearless and eager to make friends. Lately we have been allowing him to spend his playtime with Butch, Wanda, and Poppet. These supervised sessions are great fun for all involved!

Nugget seems to bring out Wanda's and Poppet's inner puppy and they have adopted him, Poppet playing the big sister and Wanda the anxious mother. Butch has decided that he's too cool to play with puppies and usually observes from the doorway.
We are doing our best to make sure Nugget is well socialized with both humans and his fellow canines. Open your hearts and homes to Nugget and others like him. Opt to adopt!
More pictures of Nugget with Butch, Wanda & Poppet…


Source: http://www.langkawilassie.org.my/blog/adoption/nuggets-playtime-with-butch-wanda-and-poppet/
Facebook Comments