Dinner For 3
There are truckloads of foodie blogs and websites of good food with cheap prices… It's easy to find good places to eat with reasonably good food quality and somewhat 'boleh tahan' ambience in town or any of the suburbs. You probably can name at least 3 restaurants if I'd say 'dinner for 3′. But try this instead, dinner for 3, one 2-legged human with two 4-legged furry, moustache kids.
Iím dining out with my little pups (can be not-so-little too)

It's unbelievably scarce trying to find places to eat! Not unless you donít mind a mundane routine of Monday Ė Sunday at Restaurant X! You're constantly worried if they'll accept your business, kids and all, or you have to drive off somewhere else instead aka back to Restaurant X. Sometimes you just want to give up and do a Ďdoggie bagí instead.
I tried a couple of places with my little ones, the boy Kopi, and the girl, TehC. Hereís one of which you can try out. Just sit outside al-fresco style and try to keep away from other patrons as not everyone is a doggy fan.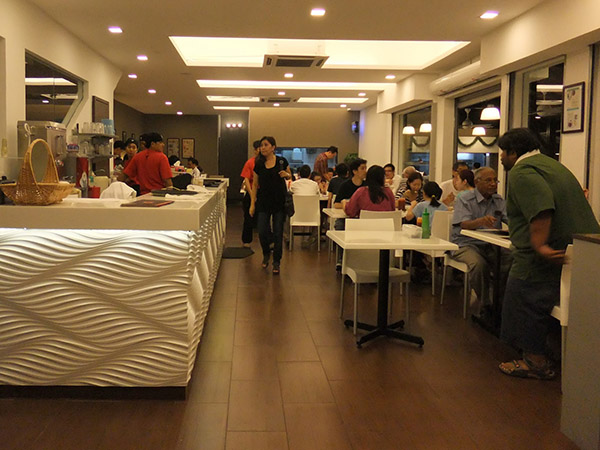 First off the list, I'd like to recommend a Restaurant called 6 to 10 Grill & Nasi Lemak in Aman Suria. They used to be located at Happy Mansion, Petaling Jaya for the longest time and moved to the new place about 1.5 years ago. Their food is great, absolutely satisfying with great pricing! I, in particular, love the Red Wine Pork Ribs. Itís a succulent juicy HUGE pork rib nicely grilled to perfection, served with a slice of pineapple in red wine sauce and a side serving of fries and coleslaw. All for a whopping price of just RM18. The grilled lamb chops are also well grilled without being too tender or chewy and you can have as much mint sauce to go with it as you wish from a little jar! They also serve thick slices of ham steaks for breakfast! The nasi lemak is great as it comes with few choices of main dishes, such as pork curry or chicken. Do give the minced pork with dry shrimp a try instead of the usual curry. You'll not regret it, I promise. At the end of it, the portion is so generously served that you'll be leaving with a full belly and big smile on your face! There are Jumbo-sized fresh fruit juices to go down with your meal too.
I ordered a salt-free less oil grilled pork chop for Kopi and he just loves it. Just bring a container to serve your pup with and not use any of the restaurantís plates/bowls, as we do need to be considerate for other patrons
This is a relaxing family weekend restaurant where you can chill and dress casually in tees and shorts. No frills – just good food with great prices.
Address : No. C21, Jalan PJU 1/45, Aman Suria, Petaling Jaya, 47301 Selangor.
Telephone : 03 7955 4993, 012 601 9976 (Erik)
#Special Note : Do go before 9:30pm as they close quite on time at 10:00pm, so the kitchen closes at 9:30pm and they are closed on Mondays & Tuesdays.
As for others who do not own a pet (you really donít know what youíre missing, all the adoration, all the abundance of overflowing love!!), do bear with us as it is the same for everyone — we too would like to eat with our family. We take the responsibility to ensure our little ones are friendly, clean with weekly baths, ticks and flea-free and most importantly no Doggie Odour aka DO! Some of us do brush their teeth so thereís not bad breath and at the very least I ensure mine are all schooled with good manners!
Of course a note to owners too, please be responsible and if your little kid is not sociable, do socialise him / her more before you bring it out to eateries as they can be a nuisance to others with incessant barking, whining or territorial and dominant behaviour. Simple task — your little kid poo, clean it up

Facebook Comments