Interring Bobby's Ashes
Bobby passed away on 5th September 2012: http://myanimalcare.org/2012/09/06/in-loving-memory-of-bobby-october-1996-6th-september-2012/
Today, our whole human family is back home so we thought it's time to inter Bobby's ashes.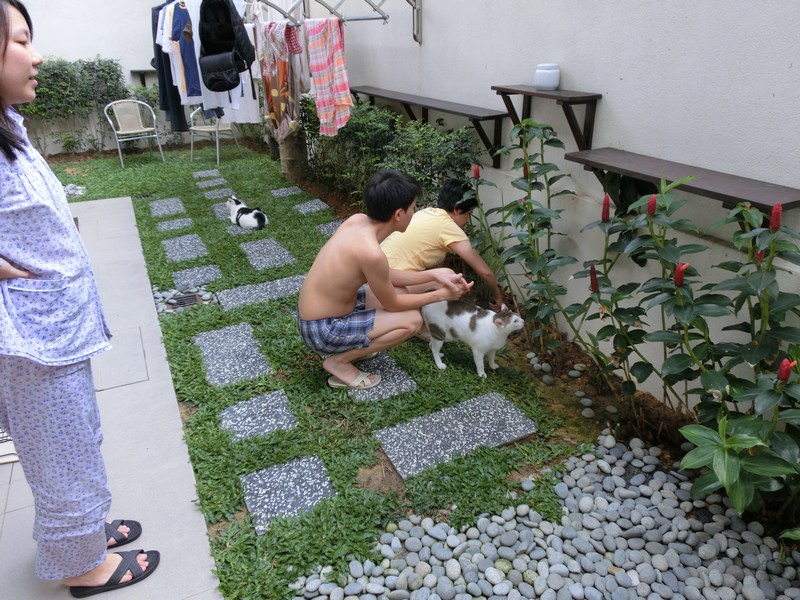 Bunny came to see.
 We know Bobby is always with us in spirit.
But for the living (meaning us), we also wanted his remains to be near us. It didn't make any sense to us to have his remains scattered anywhere else. Bobby looked after all of us (humans and every single cat) while he was alive, right up to his very last day.
Cow, the all-knowing one.
I wanted to have a serai (lemongrass) plant planted in Bobby's grave because the cats love serai.
 Tabs came to see too.
 Here's the serai. May you grow strong and healthy.
Cow, on his own, was the first to pay his respects.
You've got to give it to Cow. He's the all-knowing one.
 Grow well, little serai plant!
Some photos in loving memory of our ever loyal Bobby (October 1996 – September 2012)
 Looking after Cow, Bunny and Pole.
 Looking after Tiger.
 Looking after Indy.
Bobby looked after no fewer than 30 kittens in his lifetime.
 More photos: http://myanimalcare.org/2012/09/06/in-loving-memory-of-bobby-october-1996-6th-september-2012/
What a dog!!


Source: http://myanimalcare.org/2013/02/09/interring-bobbys-ashes/
Facebook Comments