Night Out At Betty's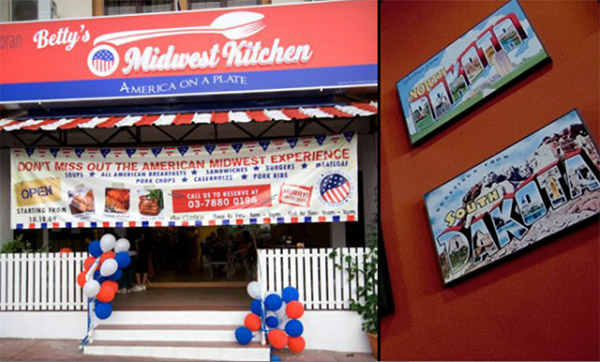 To all foodies and dog lovers out there, here's another great place to go to for your dinner for 2

These days my dinner for 2 has turned into a dinner for 5! It's quite a brood I have going around with me. Kopi and TehC a.k.a the couple have given birth to 6 beautiful, adorable pups! Most have found great loving homes with dedicated mums and dads who dote on them very much. Now this 'granny' has 2 kids and 2 grandpups to dine with and it's loads of fun! Dinners ain't so singleton anymore.
Betty's Midwest Kitchen serves authentic home-cook style Midwest food and is a family-run eatery. Betty, the chef, brings back recipes from the Midwest in the States, and serves it right up here in Aman Suria, Petaling Jaya with a flair. Generous portions and warm friendly environment, all at a reasonable price. Not to mention the family's love for dogs and constant dropping by at the table make one feel most welcomed and more of a friend than a patron.
The fried chicken with country gravy is excellent, it comes with a generous scoop of creamy mashed potato and saute peas. For someone who doesn't quite like beans or peas, I finish up every morsel and every drop of gravy on my plate each time! I also love the pork chops, it's just so yummylicious! You can choose from country gravy or apple sauce, both are just heavenly. Anyone from the Midwest will probably say it's not authentic if there's no Juicy Lucy or Sloppy Joe, well come right in! There are more selections from succulent juicy moist patty burgers (mix of beef and pork patties), Boston butt (stewed in beer sauce), meatloaf (pork) to chops and sausages. You're bound to go home with a full stomach, a happy face and a very satisfied tummy. Dishes cost about RM15 onwards.
There are also a few interesting appetizers like Pigs In A Blanket, but Kopi loves the deep-fried bacon (no thanks to Joyce who got him hooked on it!). Oh before I forget, do order the lemonade, it's refreshing! For me, for desserts, I love the bread and butter pudding which is thinner compared to the normal ones that you have outside. It's crispy and fluffy. Just yummylicious to go with a nice generous scoop of vanilla ice cream… What better way to end the meal than with something sweet to last the night?
You don't have to worry about parking where this restaurant is located, there's plenty around! What you need to look out for instead are the super long queues! Be there before 6:30pm if you don't want to be disappointed. Anytime after, be prepared to wait. Now, you can hardly expect to see a place that serves good food, great ambience, friendly staff, at reasonable price and with ample parking to be empty especially on week nights right?
Betty's Midwest Restaurant
A-G-40, Jalan PJU 1/43
Aman Suria Damansara
47301 Petaling Jaya
Tel : 0-378800196
Opening Hours : Tues – Fri : 11am – 10pm, Sat & Sun : 10am – 10pm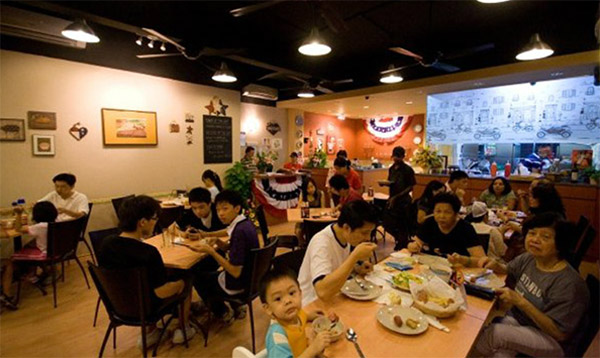 Facebook Comments