Dogs On Deathrow: MPSP Dog Pound
A tall and lean curious looking boy with nice brown coat is waiting to be saved at the pound.
If you can help adopt him, please claim him out from MPSP Dog Pound at Jalan Bertek, 14000 Bukit Mertajam. Operation hours is from Monday till Friday, 8am-5pm and Saturday, 8am-12pm.
Time is running out for those pound dogs. Please act fast if you want to save them.
Share! Share! Share!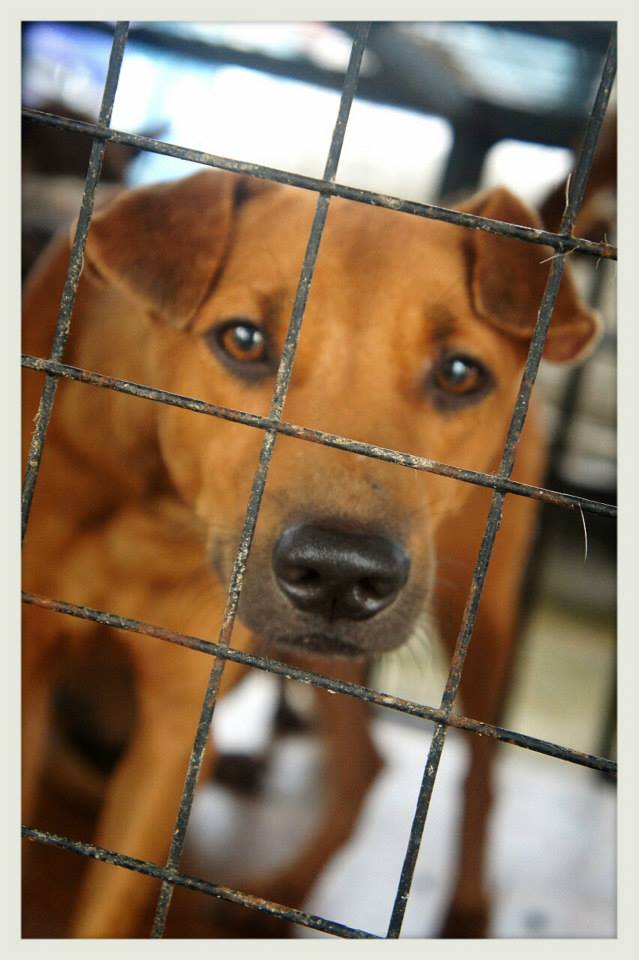 I am a coward, I admit.
Though I am involved in animal rescues, but never will I dare myself to enter a dog pound. I know that if I ever did, I will be mentally and emotionally shattered.
Today, I made a great breakthrough and overcome my fear. For the last few days, I have heard of so many dogs and puppies captured at the pound. A total of 41 adult dogs & 11 puppies! And since the pound is already at its max capacity, its just a matter of time before each and every one of these furkids will be put to sleep.
I had sleepless nights, thinking to myself what can I do to save, if not ALL but at least a few of them. My coward character ain't going to help them. If only I have the guts to step in, take some nice photos of them…perhaps…just perhaps…they might have a chance to get adopted.
Time is running out for them….
I braved myself and went to the pound today and captured as many photos of the furkids as I can. Most of these dogs are very friendly and wag their tails non-stop at the sight of people walking near. They DO deserve to be people's pet. The only thing that they need is A CHANCE.
As I drove myself back, I cried most of the way. I could not forget how they look at me, some with smiley faces…and some even came over to lick my hand, wagging their bushy tails…I am truly heartbroken, not knowing how much time they still have. I felt so helpless!
I sincerely appeal that more people can help me SHARE out this album so that some of these furkids may get a chance to be adopted.
These dogs are now at MPSP Building, Jalan Bertek, 14000 Bukit Mertajam. If you can help to save them by bringing a dog home, you may go over at anytime from Monday to Friday, 8.00am to 5.00pm. Please do avoid lunch hours (just in case) and Saturday they operate from 8.00am to 12.00pm.
1 ADOPTION = 1 LIFE SAVED
PLEASE GIVE THESE POUND DOGS A SECOND CHANCE.
NOTE: For female dogs, spaying will be sponsored.
*****************************************
27.09.13
Freddie has been going to MPSP Dog Pound a few times this week to help with the cleaning and feeding of the pound dogs. Today he was there again and there were 6 new dogs caught along with 2 puppies.
We are very thankful to him for taking the extra time to help us capture some photos of the new catch after the cleaning and feeding. He is really a great guy that walk the talk. *salute*
Please continue to help SHARE out this album and help us save as many furkids as possible.
Time is running out and every minute counts!
****************************************
05.10.13 Ė My 2nd Trip to MPSP Dog Pound:
Though itís a dreadful feeling going to the pound, I find myself having the urge to go back again.
I had a friend with me this round and am glad to meet up with 2 other freelance volunteers who frequented the pound to help with feeding and cleaning.
While the 3 ladies were working hard cleaning the place and doing some feeding, I spent some time photographing the furkids. I do hope that the photos I took will encouraged more people to come forward to adopt these pound dogs. Even if not many can adopt, at least they can help by sharing out the photos to their friends, families and relatives. Some how, I feel the work will paid off with a few lives saved.
We do sincerely appeal to the Public to help us save these pound dogs by opting to adopt instead of buying a pet. These pound dogs are equally beautiful and will make great pets as well.
We are also facing shortages of volunteers to help out at the pound. With less than a handful of people helping, itís near impossible to keep the area clean and thus with the ongoing hygienic problem, it is not surprising that the dogs/puppies can get sick easily.
If you wish to volunteer to help the pound dogs, you may get in touch with us via PM. We look forward to have you on board BUT bear in mind that this is no easy task and you have to be prepared for the challenges ahead!

Facebook Comments