WWF-Malaysia Bags Award For Conservation Work In Kinabatangan Wildlife Sanctuary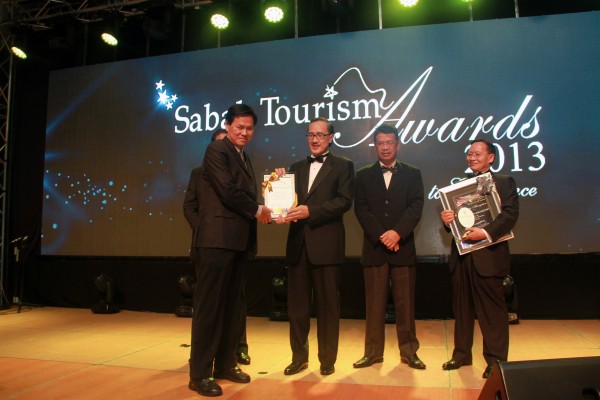 25 Nov 2013, Kota Kinabalu: WWF-Malaysia was recently presented the plaque of recognition for the collective contribution of all stakeholders toward the conservation of Kinabatangan Wildlife Sanctuary by the Sabah Tourism Board.
Other stakeholders involved in the conservation work included the government and private sectors, other non-governmental organizations and local communities.
The award was in recognition of WWF-Malaysiaís role in promoting long-term sustainable tourism development that benefits the environment and enhances the livelihood of the community through ecotourism.
ďWe are proud to be recognized for our work in Kinabatangan,Ē said WWF-Malaysiaís Head of Conservation (Sabah), Bernard Tai.
According to Tai, WWF-Malaysia has been carrying out projects in the Kinabatangan area, aptly called the Kinabatangan Corridor of Life (KCoL), since the late 1970s.
ďA large-scale strategic programme to secure the long-term viability of wildlife populations in the area was started in late 1998, and work on it has continued to the present,Ē he added.
In 1999, as a result of conservation efforts by WWF-Malaysia and various stakeholders, the Sabah State Government declared the Lower Kinabatangan as Sabahís ďGift to the EarthĒ. In 2005, a total of 26,000ha was gazetted as the Kinabatangan Wildlife Sanctuary under the Sabah Wildlife Conservation Enactment of 1997.
Tai represented the national conservation organization in receiving the award from YB Datuk Seri Panglima Masidi Manjun, Minister of Tourism, Culture and Environment at the Sabah Tourism Awards 2013 recently.
ďAlthough we exited the KCoL landscape in mid-2011 after setting all the necessary enabling factors in place so that a more permanent institution could take over, we remain committed and continue to support conservation efforts in Kinabatangan,Ē Tai said.
He expressed WWF-Malaysiaís hope to be actively engaged in the KCoL Management Committee so as to contribute effectively to the conservation efforts in KCoL and beyond, jointly with the Ministry of Tourism, Culture and Environment, and other related non-governmental organizations.

Source: WWF Malaysia


Facebook Comments