Sally Found A Mum And Her 2 Remaining Tiny Babies ..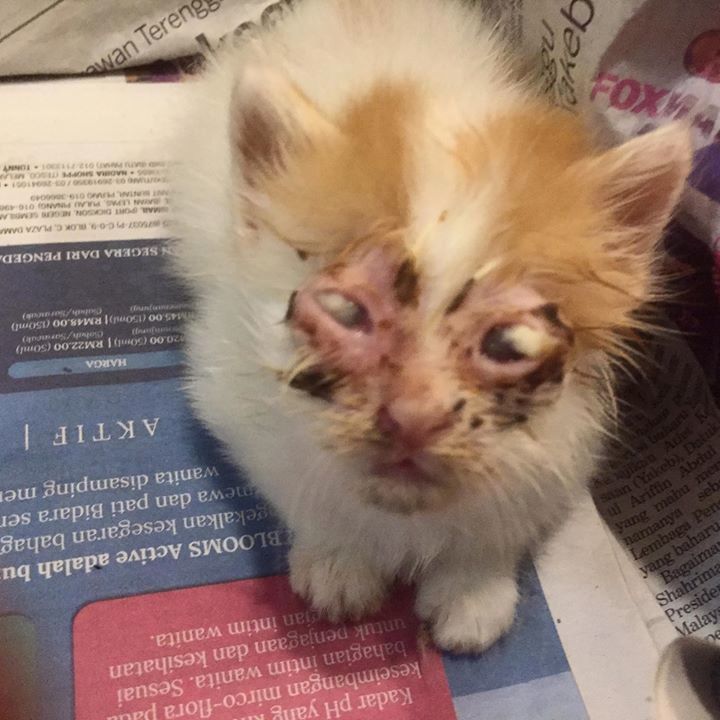 Sally found a mum and her 2 remaining tiny babies on the ground floor of a condominium complex in Kepong on Friday 2 evenings ago.
She went hysterical when she saw Tiny has no eyeballs !
She approached us. But , we are undergoing a cat flu outbreak .
We tried to source alternatives . Even clinics aren't keen to take the risk as kitties are very young ( just turned 3 going to 4th weeks old )with their health compromised already .
Tiny is too fragile. We took the family in n settle them along a corridor cut off from the "Flu " cats.
I too was shocked when i saw a tube of white powdery gel of 3cm long x 0.75 cm x 0.5 cm oozing out of its left eye whilst cleaning up Tiny 's eyes mess with saline water!
I smeared Terramycin into the eyes n popped in some papase before settling Tiny in. M after confirmation with a vet .
Pete , the brother is alright . Mum was so tired and rested flat out .
Dr Chang at Hands & Paws confirmed both eyes corneas are gone and torn by flu infection yesterday. The infection are to be managed with Terramycin and papase together with multi vits reinforced with Lysine to keep cat flu a-bay.
There is no other alternative ; The eyes have to be removed surgically .
So much for the belief that cats and dogs can survived on their own.
Some heartless nuts even dump New borns .
TINY ONLY WEIGHS 265 gms .
Pete weighs 495 gms .
Its not conducive for Tiny especially to stay with us with our cat flu outbreak and her sightlessness. Its not fair to confine her in a cage for life. Blind cats n dogs can live fine but not here as there are too
Much obstruction and we hadnt time to play with her .
Both Tiny n Pete are adorable .
Some ANGEL / ANGELS pls help and give them a chance to live a full life . LIFE HASN'T TREATED THEM WELL THUS FAR 🙏.
We can help to care till they are independent .
Sweet n excellent Mummy needs a home too. My contact is
0122070436 .

Source: https://www.facebook.com/SaveAStrayMalaysia/photos/a.6599867..
Facebook Comments