We Are Pleased To Announce The Launch Of Projectmo..
We are pleased to announce the launch of @projectmonyet exhibition! Dr Jane Goodall will be visiting the exhibition on 22 Nov in KL. If you are in the vicinity please drop by!
#Repost @projectmonyet
• • • • • •
RUANG by Think City
Coming soon!
We're so grateful to be able to bring our Malaysian primates to you and also introduce many of the amazing organisations and people who are working hard to ensure their wellbeing and survival in the wild.
Thank you to @malaysianprimatologicalsociety @gibbonprotectionsociety @langurprojectpenang @fts_malaysia for being a part of Project Monyet.
We are also incredibly honoured to have the amazing Dr Jane Goodall visit the exhibition on 22 November.
A huge thank you goes out to @rootsandshootsmy for all your support.
This project would not be possible without the generous support of @yayasan_hasanah @mythinkcity @allianzmalaysia @urbanscapes
On behalf of the primates and on behalf of the team behind #ProjectMonyet I'd just like to say a huge thank you!
See you all at the exhibition soon!!! #kl #kualalumpur #ruangbythinkcity #urbanscapes2019 #urbanscapes #happeninginkl #timeoutkl #drjanegoodall #malaysia #visitkualalumpur #visitmalaysia #primate #malaysianprimates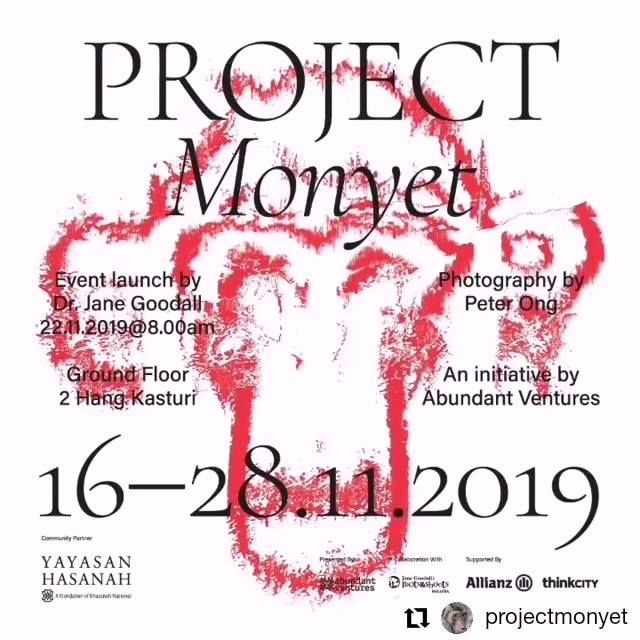 Source: https://www.facebook.com/rootsandshootsmy/videos/23826448185..
Facebook Comments