A Good Cause Organized By Woof Meow To Support A F..
A good cause organized by Woof & Meow to support a few pet shelters and NGOs. Please support.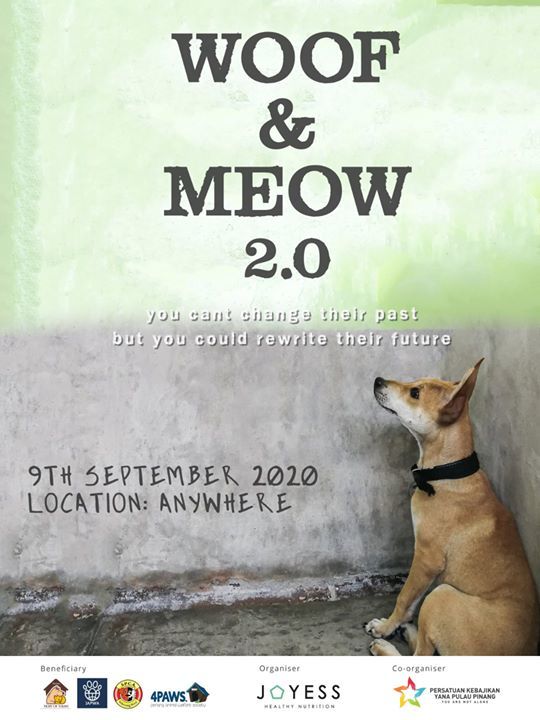 𝗪𝗼𝗼𝗳 𝗮𝗻𝗱 𝗠𝗲𝗼𝘄𝟮.𝟬 officially started! 华文版链接🔗 https://bit.ly/wnm2_0cnver
𝗪𝗢𝗢𝗙 & 𝗠𝗘𝗢𝗪(𝗪𝗻𝗠) is an online awareness event co-sponsored by Joyess Planet and YANA Charity Association. In 𝟮𝟬𝟭𝟵, we had successfully raised 𝟭𝟬,𝟬𝟬𝟬𝗄𝗀 of pet food and distributed to several shelters / non-profit institutions (Penang). (For details, please refer to: https://bit.ly/chinapress190912 #ˢᵒᵘʳᶜᵉˢ)
Year 𝟮𝟬𝟮𝟬 begins new coronavirus pandemic sweeping humanity with greatest human crisis. Unfortunately, animals are no exception from experience implications prior to this world pandemic. With humans self-isolating in their homes, animals that usually stay away from urban areas now have space to roam. However it has been a challenge for stray dogs/cats to forage for foods when the streets are empty.
Our goal for this year's event is to raise 𝟮𝟬,𝟬𝟬𝟬𝗄𝗀 pet food and distributing to the respective shelter / non-profit organization (Penang). (For details, please refer to: https://bit.ly/2VS8uh2 #ˢᵒᵘʳᶜᵉˢ)
The coronavirus has brought with it the unfortunate side effect of many more pets being abandoned. (For details, please see: https://bit.ly/guangmingnews #ˢᵒᵘʳᶜᵉˢ)
According to Ms Tan (President of SPCA – Seberang Perai), since the emergence of the new coronavirus in early January this year, the number of people who donated money and adopt animals has been decreasing significantly. The impact of Malaysia lockdown also hits our economy severely and people are starting to spend less on non-essential items which includes monthly donation to pet shelters. With coronavirus epidemic situation is still unclear, the fundraising activities scheduled for July are also forced to be cancelled. As a result, pet shelters and NGOs are struggling in making ends meet with severe shortage in terms of food supply and public donation.
Your kindness matters, you can contribute via donation online:
🐾 For every RM 𝟮𝟱 donation, 𝟳𝗸𝗴 of food will be donated to the shelter
🐾 For every RM 𝟱𝟬 donation, 𝟭𝟰𝗸𝗴 of food will be donated to the shelter
🐾 For every RM 𝟭𝟬𝟬 donation, 𝟮𝟬𝗸𝗴 of pet food will be donated to the shelter and a thank you gift for you💝
🎁 contains: 𝟭 random animal badges & 𝟭 memorial shirts👕
How to donate?
Steps 𝟭:
To make donation, please send payment transfer to the following account 👇
【 888 102 468 7937 】Am Bank | Persatuan Kebajikan Yana Pulau Pinang
* Please fill in 👉 WnM and your Facebook name in the remarks column of the receipt.
* Remember to save your payment receipt.
Steps 𝟮:
Click the following link to register (To avoid inconvenience, kindly make payment transfer first and save the receipt copy before filling up the registration form):
🔗 https://bit.ly/WnM0909
* Shall you encounter any technical glitch during registration, please send the receipt copy to the Woof and Meow page mailbox 👉 m.me/woofandmeow99 , and we will process your donation soonest.
We scheduled to distribute all donated pet foods on 𝟵.𝟵.𝟮𝟬𝟮𝟬 to the following collection / non-profit institutions (Penang)🚛
- SPCA – SEBERANG PERAI • Shelter
- Penang Hope Of Strays • Shelter
- Penang Animal Welfare Society (4 PAWS) • Shelter
- IAPWA Penang • Non-profit organization
𝗪𝗻𝗠 will be donating a portion of the raised funds to the YANA Charity Association in hopes to contribute to our society while providing for animal welfare.
𝑨𝒅𝒐𝒑𝒕, 𝒅𝒐𝒏'𝒕 𝒔𝒉𝒐𝒑.
𝒀𝒐𝒖 𝒄𝒂𝒏'𝒕 𝒄𝒉𝒂𝒏𝒈𝒆 𝒕𝒉𝒆𝒊𝒓 𝒑𝒂𝒔𝒕, 𝒃𝒖𝒕 𝒚𝒐𝒖 𝒄𝒐𝒖𝒍𝒅 𝒓𝒆𝒘𝒓𝒊𝒕𝒆 𝒕𝒉𝒆𝒊𝒓 𝒇𝒖𝒕𝒖𝒓𝒆.
Interested individual or corporate group in sponsoring residences / NGOs organizations may contact 𝗪𝗻𝗠 volunteers:
𝖬𝗌 𝖫𝖺𝗐 👉 https://bit.ly/wnmvkylaw
𝖬𝗌 𝖡𝖾𝗁 👉 https://bit.ly/wnmvhqbeh

Source: https://www.facebook.com/woofandmeow0909/photos/a.2975328119..
Facebook Comments