Surely, Defin Would Have Liked To Shout For Help A..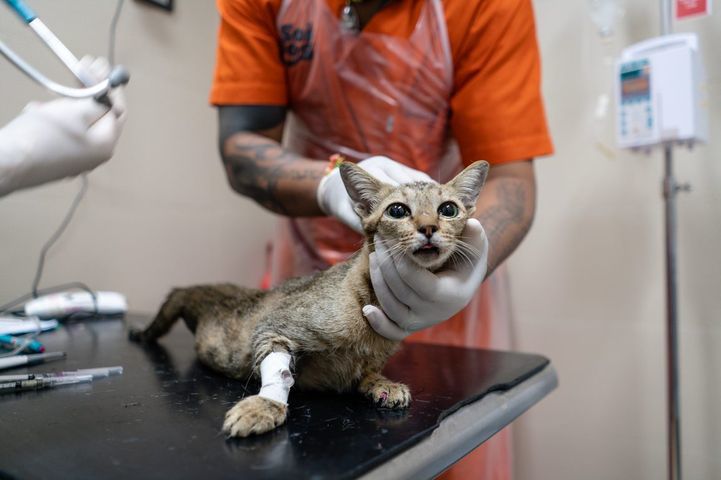 𝗞𝗶𝘁𝘁𝗶𝗲𝘀 𝗹𝗶𝗸𝗲 𝗗𝗲𝗳𝗶𝗻 𝗰𝗮𝗻𝗻𝗼𝘁 𝘀𝗽𝗲𝗮𝗸 𝗳𝗼𝗿 𝘁𝗵𝗲𝗺𝘀𝗲𝗹𝘃𝗲𝘀, 𝘄𝗲 𝗮𝗿𝗲 𝘁𝗵𝗲𝗶𝗿 𝘃𝗼𝗶𝗰𝗲! 📣📣Surely, Defin would have liked to shout for help and explain what happened to her… but she couldn't.
https://links.soidog.org/be-their-voice
Defin was the victim of a mean crime. 😱🤯Someone tightened a plastic cable tie around her upper body, making it extremely difficult for Defin to breathe, bend and walk. It was one of those cable ties that you have to manually clip, and are 𝑺𝑼𝑷𝑬𝑹 𝒉𝒂𝒓𝒅 to break without scissors. Clearly it was an intentional abuse that could have ended poorly. Thankfully, Defin was found by a local resident and rushed to Soi Dog for help. You can see from her big big eyes how distressed she was.
The wire did not only affect Defin's ability to breathe, it was also cutting through her skin, causing a rash and constant pain… Luckily, this beautiful cat got treatment when she needed it. Defin will now stay at our shelter until she fully recovers, both physically and mentally from her ordeal.😻
When living on the streets, the chances of being injured or abused – or both! are very high. There are so many cats like Defin fighting for their life and in desperate need for help. However, 𝘁𝗵𝗲𝘆 𝗰𝗮𝗻𝗻𝗼𝘁 𝗱𝗼 𝗶𝘁 𝗯𝘆 𝘁𝗵𝗲𝗺𝘀𝗲𝗹𝘃𝗲𝘀 – 𝘁𝗵𝗲𝘆 𝗡𝗘𝗘𝗗 𝗬𝗢𝗨! It is only with your kindness that we can provide them with lifesaving treatment and care. 🙏🧡
With your support, you can ensure Defin gets the best care possible, and at the same time, help us treat more animals that are victims of other brutal crimes 🙏🐱
𝗪𝗵𝗮𝘁 𝗮𝗿𝗲 𝘆𝗼𝘂 𝘄𝗮𝗶𝘁𝗶𝗻𝗴 𝗳𝗼𝗿? 𝗗𝗢𝗡𝗔𝗧𝗘 𝗡𝗢𝗪 at this link and save cats like Defin from suffering https://links.soidog.org/be-their-voice

Source: https://www.facebook.com/SoiDogPageInEnglish/photos/a.137025..
Facebook Comments