Furrytailending Time, With An Update On Busaba. Sh..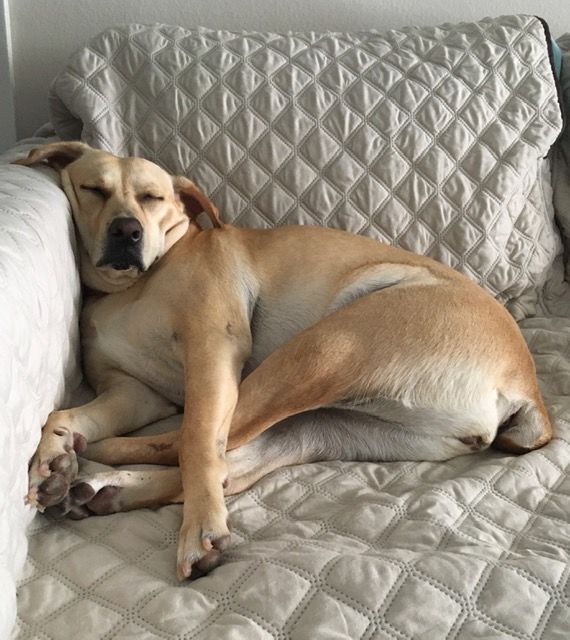 Furrytailending time, with an update on Busaba.
She went to live her new life in the USA, after living at Soi Dog for almost a year. #furrytailFriday 🤩
Busaba, came to us after an agonising road traffic accident, that broke her tail and injured her hips. When we first saw her, the bones of her tail were sticking out, with several lacerations to her groin area.😩
After surgery to amputate the tail and treatment to her other wounds as well as the tick infestation she was fighting, Busaba was ready to find her new home and she eventually flew to the USA early last year.
Her new mum Nancy shared this update of Bubasa recently and we couldn't wait to re-share it with you.
'When I first brought Busaba home I was a bit nervous about how she would adjust to her new surroundings. Going from a run with 30+ other dogs in Thailand to living with a stranger in an apartment in downtown Seattle was a big change. And then later in the year we moved from Seattle to San Diego.
I won't say we didn't have a few hiccups along the way, because we certainly did, but in the whole scheme of things she has adjusted very well and pretty quickly.
She is a sweet, smart, resilient, and wonderful dog. She enjoys eating chicken, sniffing, and laying in the sun. She dislikes baths but is generally cooperative when I give her one. My two favorite things I love to watch her do are: sleeping and putting her face out the car window when I'm driving her to the park. She has a cute snore and sometimes lays in the weirdest positions, resulting in funny faces. In the mornings when the sun is shining on our patio and I see her laying out there napping and enjoying the sun while the birds flit around on the feeder, I feel happiness. She makes me laugh with the way she shows excitement when I return home or when she knows we are going for a ride in the car. She picks up something in her mouth (usually one of my shoes) and carries it as she walks around in circles wagging her cute, nubby tail.
I have enjoyed spending so much time with her and watching her personality evolve over this past year. I look forward to our future adventures together and I am glad I've gotten to provide her with a better life.'
We sure love hearing these happy stories of dogs who 've now found a better life after suffering immense pain and agony on the streets.🧡
If you'd like to offer your home to a dog like Busaba, visit our website for details:https://links.soidog.org/meet-dogs-for-adoption-like-busaba
If you are part of the #ProudSoiDogAdopter alumni don't forget to send us updates of your #SoiDogRescue to info@soidog.org today.

Source: https://www.facebook.com/108625789179165/posts/5330851993623..
Facebook Comments