Graphic Images. When He First Arrived At Our Shelt..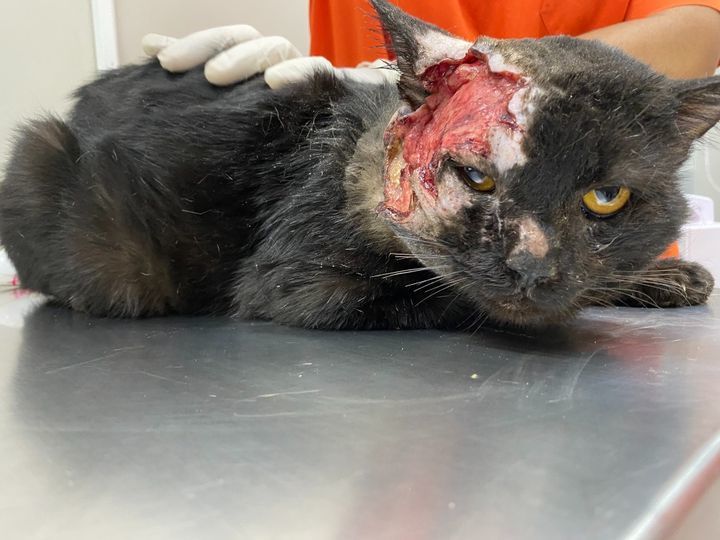 ⚠️Graphic Images⚠️ 𝗦𝘄𝗲𝗲𝘁 𝗢𝗰𝗰𝗶𝗮 𝗶𝘀 𝗮 𝗹𝗶𝘃𝗶𝗻𝗴 𝗺𝗶𝗿𝗮𝗰𝗹𝗲!
When he first arrived at our shelter, we couldn't figure out how he managed to survive in such terrible conditions.😱 He had a massive open wound on the right side of his face… all the way from the cheek to his upper head. His skin was completely exposed and caused a severe infection, which weakened Occia's immune system and made him extremely vulnerable to any other minor disease – the pain must have been unbearable. 🤯😨
With a high fever, an incredibly infected and large wound, and already five years on his back, Occia didn't have the odds in his favour… Thankfully, he was brought to our shelter just in time to receive the urgent medical treatment he needed. 🙌😻 𝑰𝒕 𝒕𝒓𝒖𝒍𝒚 𝒊𝒔 𝒂 𝒎𝒊𝒓𝒂𝒄𝒍𝒆 𝒕𝒉𝒂𝒕 𝒉𝒆'𝒔 𝒂𝒍𝒊𝒗𝒆 𝒕𝒐𝒅𝒂𝒚.
𝗣𝗹𝗲𝗮𝘀𝗲 𝗱𝗼𝗻𝗮𝘁𝗲 𝗻𝗼𝘄 𝘁𝗼 𝗵𝗲𝗹𝗽 𝗰𝗮𝘁𝘀 𝗹𝗶𝗸𝗲 𝗢𝗰𝗰𝗶𝗮: https://links.soidog.org/help-them-fight
Occia is still recovering from his injury. He's slowly getting back to his handsome self – bossing around the Suite like only black cats can do.🐈🐾
Sadly, Occia also tested positive for FIV 😥, and is now less likely to be adopted. Every day, he fights against FIV to try and live his best life – but he cannot do it by himself. As there is no cure for FIV, 𝗢𝗰𝗰𝗶𝗮 𝗻𝗲𝗲𝗱𝘀 𝘀𝘂𝗽𝗽𝗼𝗿𝘁𝗲𝗿𝘀 𝗹𝗶𝗸𝗲 𝗬𝗢𝗨 to receive the best supportive care we can give him and keep rocking it. 🙏🧡
𝗣𝗹𝗲𝗮𝘀𝗲 𝗱𝗼𝗻𝗮𝘁𝗲 𝗻𝗼𝘄 𝗳𝗼𝗿 𝗰𝗮𝘁𝘀 𝗹𝗶𝗸𝗲 𝗢𝗰𝗰𝗶𝗮: https://links.soidog.org/help-them-fight
With your help, you can make all the difference in their lives and, at the same time, provide urgent medical care for other cats like Occia, who come to our shelter every day in excruciating pain, struggling to survive. 𝗛𝗘𝗟𝗣 𝗖𝗔𝗧𝗦 𝗟𝗜𝗞𝗘 𝗢𝗖𝗖𝗜𝗔 𝗟𝗜𝗩𝗘 𝗧𝗛𝗘 𝗕𝗘𝗦𝗧 𝗟𝗜𝗙𝗘 𝗣𝗢𝗦𝗦𝗜𝗕𝗟𝗘 🙏🐱🧡https://links.soidog.org/help-them-fight

Source: https://www.facebook.com/108625789179165/posts/5368687346506..
Facebook Comments