So Today A Miracle Happened. Last Week, After We H..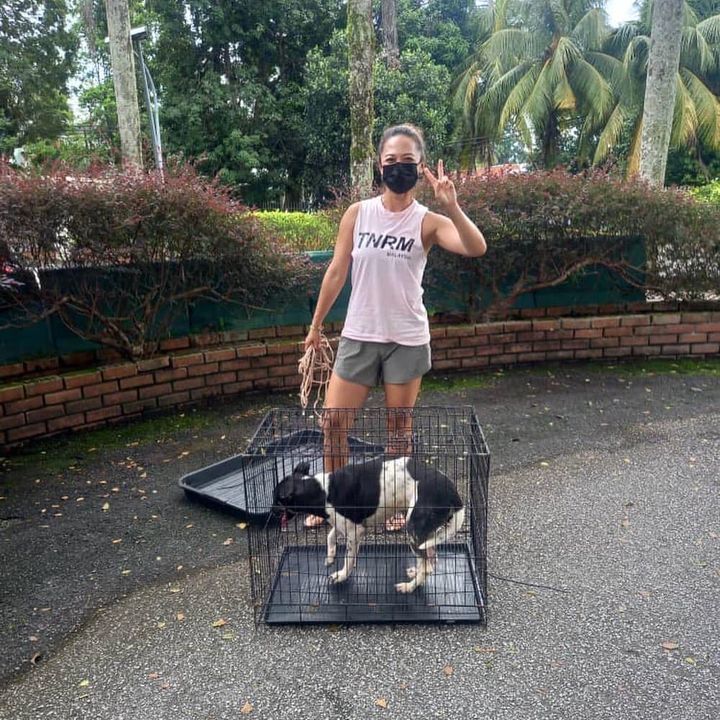 So today a miracle happened. Last week, after we had left dog #18 from the Balakong pack at the vet, we were told t one dog went missing and we found that it had escaped from the cage. We were distraught and informed the feeder immediately and asked if the dog would respond to the feeders if they came to look for her. To our dismay, we were told she was a very skittish, feral dog and was going to be impossible to catch back even if we found her. We put out a notice for people on the area to let us know if they spot her anyway but got nothing.
Today (1 week later), on the way to the vet with a today's dogs, we saw her running down the same road as the vet. We immediately stopped the car and when we realised it was her we were ecstatic but at the same time needed to think about how we're going to get her. It was wide open space, we had no bond/ connection to this dog (we were not her feeders) and we would lose her by the time the feeders came, and she was disoriented, very skittish and untrusting. It was as good as trying to catch a random feral but we had to try.
We quickly formulated a plan which we had to adapt as we went along, and long story short after about an hour, a lot of patience, not giving up, using our expertise and affinity with animals and animal sense, we got her!!!!!!!! We were over the moon and informed the feeders straight away. Needless to say, Uncle, Auntie and Josephine were overwhelmed with gratitude and were in disbelief and awe. So are we go be honest. Can't believe we pulled it off but we managed to.
She was then sent straight back to the clinic and this time we immediately transferred her to a stainless steel cage immediately with no way to escape 😅
She has finally been spayed, vaccinated and eartipped and will be released back to her home next week after post-op recovery ❤️
#tnrmmalaysia

Source: https://www.facebook.com/403709439694040/posts/4864493553615..
Facebook Comments