We Heard A Gunshot Coming From The Beach, And We I..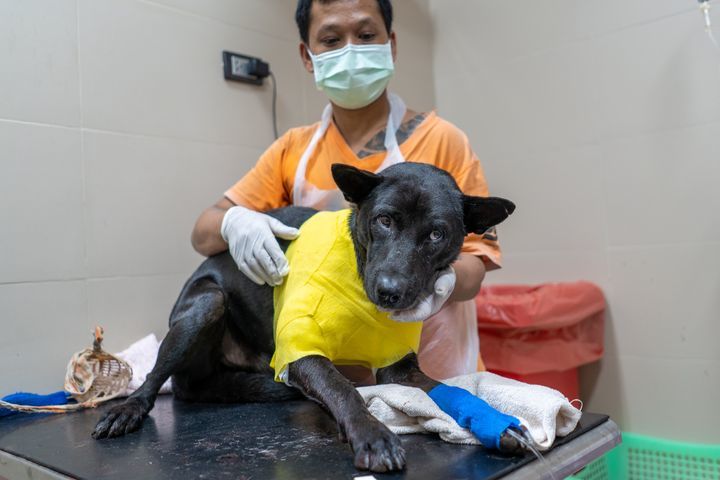 "We heard a gunshot coming from the beach, and we immediately knew what had happened: one of those friendly dogs had been shot". This is what a local family on holiday told our animal rescue officers after reporting the case 😱. Umberto was among four stray dogs who used to roam and play on the beach. They were all friendly dogs, well known in the local community. Umberto was shot at his right front leg and suffered multiple fractures 💔😥. Umberto is now safe, but he needs all the support we can give him to make a full recovery. Will you please give a gift to help him and other victims of abuse get the best treatment possible? Please give here: https://links.soidog.org/help-dogs-like-umberto 🙏🧡
When our vets ran more tests on Umberto, they also discovered another wound on his thorax, likely from another bullet. Luckily, someone rushed to the beach and called us for urgent help. Umberto was brought to our hospital where he received the urgent care he needed 🙏. Poor Umberto was terrified. He wouldn't eat during the day, only when he was completely alone at night. He was so scared of humans that he wouldn't let anyone close to him for a few days…
After a few weeks of spending time with our carers, he finally trusted one of them enough to let them take him outside and take care of him 🧡. Umberto still has a long way ahead before he can make a full recovery, and he needs all your support in his journey… Will you please give a gift to help? Click here to help: https://links.soidog.org/help-dogs-like-umberto 🙏🧡

Source: https://www.facebook.com/108625789179165/posts/6826172324091..
Facebook Comments