Urgent Request From Heroes In Ukraine. Harmony Fun..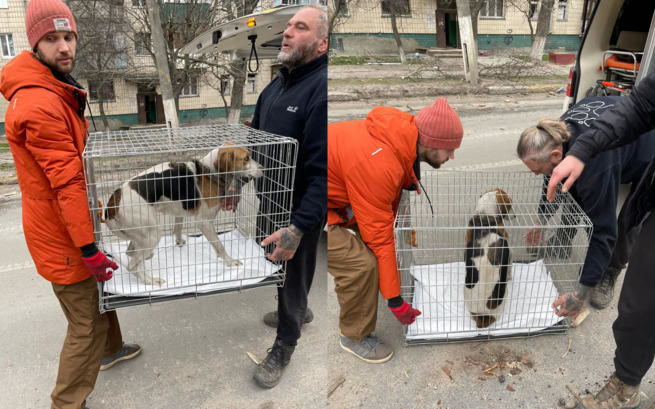 URGENT REQUEST FROM HEROES IN UKRAINE
Harmony Fund is partnering with many organizations in our mission to help the animals of Ukraine and today, we share an urgent request from the Polish based group Fundacja Centaurus who are doing extraordinary rescue work. Although it's lengthy, we decided to publish today's update in its entirety so that everyone can fully understand the scope of what is happening. All donations raised this week will be used to power this specific mission within Ukraine and we ask you to please SHARE and consider helping on our donation page https://harmonyfund.org/donation/emergency-fund-for-ukraine-animals/
FIRST HAND ACCOUNT FROM RESCUERS:
Today our convoys are in Kiev, Irpin, Bucha and Cherkasy. Since the beginning we have entered the worst parts of Ukraine. We go, where nobody wants to go. We walk the streets with Ukrainian volunteers and the army to collect dogs from the street, unfortunately many of them are already dead. Other dogs are waiting for their owners who were shot and we've seen their graves just in front of their homes, bodies laying in some pits, or in sacks. Today we are going to Makarov to get a dog that has been waiting for a month for its owner who was murdered – the neighbors asked us to do so. Today we will continue in Irpien, or rather in the vicinity, because Irpien itself is doing "purges," and they are doing a curfew until April 15 at 9am. We want to go around the surrounding smaller villages with food for people and animals. We want to pick up more dogs off the streets and take them away. Tomorrow morning our Convoy goes to Dnieper, to pick up animals from several small shelters and from volunteers who've picked up animals from the street.
We also want to go to Kharkiv, we are checking the possibility of access. Because many parts of the city are occupied. There is a total of several thousand animals to collect, but it is clear that we are not able to take so many. In both convoys we have to pay for Ukrainian drivers with minibuses (Kharkiv is more expensive than Dniepro, between 1200 and 1400 euros plus taxes)
Yesterday and today we again received many emails asking for help. Opening each of them makes our fists clench as we know our limits for now. One women from Germany was asking us to help her mother in Ukraine, near Kharkiv. She has been rescuing animals for years and her daughter is begging us to take at least few dogs from her so that she can die in peace when the Russians come.
Unfortunately, we are financially losing our ability to provide further help. We've spent all we have collected. It'll be extremely hard for us to go any further having 1500 horse mouths to feed every day.
At this moment, Our goal is to pay for everything that is listed below, and would like to ask your help to support us, with:
1. fuel for the convoys
2. wet dog/cat food
3. renting buildings in Lviv
4. hiring people to look after the animals (20-30 people depending on the amount of animals)
5. hiring vets from Ukraine
6. purchase of kennels, transporters and fencing
7. purchase of at least one armored van
8. rabies tests and vaccines, anti-viral vaccines, chips, antibiotics, clinic bills for animals in critical condition
9. renting a big farm in Poland, where we can keep the animals after transporting them from Ukraine and hiring people to look after them until we find adoption homes for them or we get in touch with their owners on the refuge
10. last thing we want to ask for, which we understand exceeds helping animals, is food for people; we do not know why it's like that, but there is hardly any humanitarian aid seen; at the places we go, we see people fighting over bread, water, gas lighters, candles and all that basic stuff; today we were asked by Rowno mere to buy food for 30 soldiers, who are heading east. It was a shocking request for us, that they've asked animal charity for things like that, as there should be a proper humanitarian aid. We receive many requests like that from the military and civil people
-the website and an app that will combine evacuated dogs with their owners (refugees that had to be separated from their animals in tragic circumstances).
We do realize it's a lot, that we are aiming for, but unfortunately without sufficient funds, it's barely possible to evacuate all these animals and provide them with help, and carry them on through that process till the very end.
DONATIONS FOR THIS MISSION
Please donate on our website here to help Fundacja Centaurus keep this mission alive: https://harmonyfund.org/donation/emergency-fund-for-ukraine-animals/

Source: https://www.facebook.com/109342202422434/posts/5195921633764..
Facebook Comments