Among The Many Anthropomorphic Characters In The L..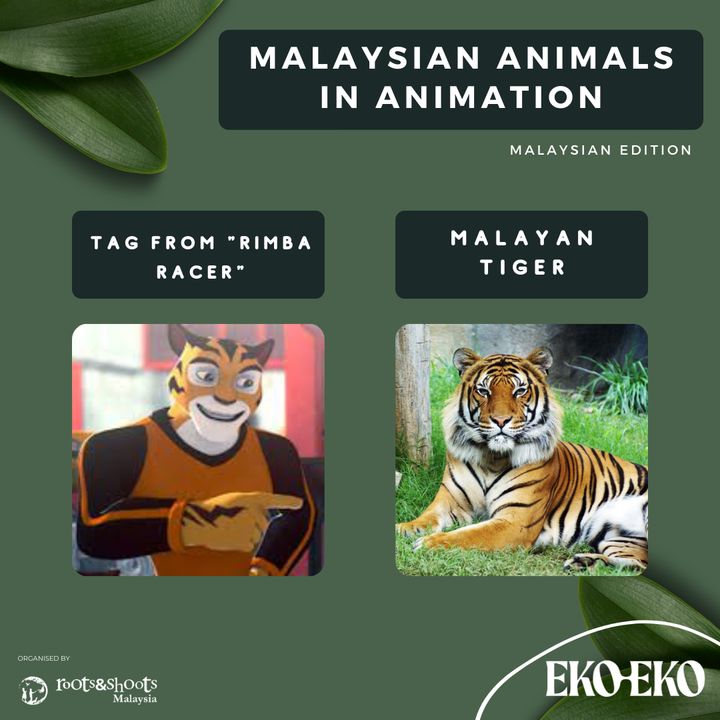 Among the many anthropomorphic characters in the locally produced animated show "Rimba Racer" is Tag, an ambitious and talented #MalayanTiger! 🐯🔥
Native to Peninsular Malaysia 🌏🌳, the solitary and majestic Malayan Tiger is our national animal and is often depicted in emblems, as mascots and the like. 🐅✨ Sadly, due to factors such as habitat loss and poaching, its numbers have dwindled to only about 150 in the wild, which is why it is crucial for us to act now and save the species! 🌳🐾
This month on Eko-Eko, we're bringing you fun facts about our lovely Malaysian Animals that can be found in animation series/movies!
Comment down below what character you want to see next and follow us for more wildlife content! 🌿🏞️
Discover more about Malaysian wildlife by visiting https://eko-eko.org/ (link in bio) 👆
Image credit: Rimba Racer, Muhamad Ayman Jamaludin, Tariq Mohd. Noh, Glue Studios (2014)
#EkoEkoOrg #EkoEkoLife #EKOmunittee #rootsandshootsmy #Wildlife #Photography #MalaysiaWildlife #Nature
#Volunteering #TreePlanting
#Youths #Malaysia

Source: https://www.facebook.com/924104410951949/posts/5605862989442..
Facebook Comments