A Few Weeks Ago, We Granted A Special Wish For The..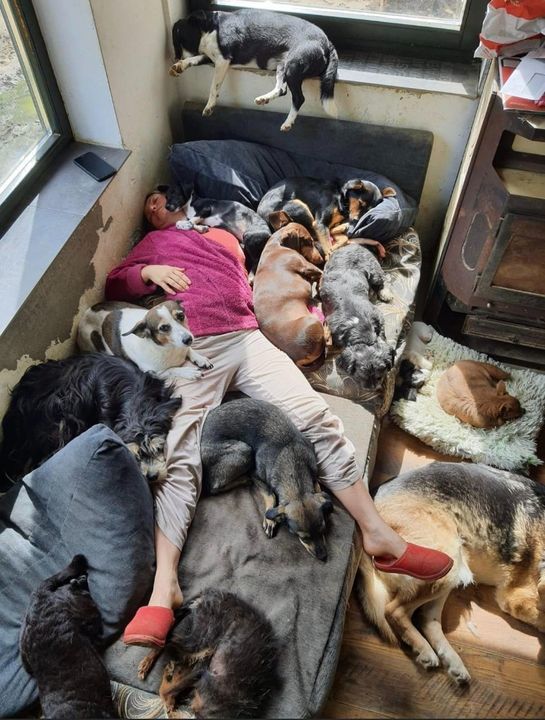 A few weeks ago, we granted a special wish for the Blue Cross Sanctuary in Croatia run by two woman who began rescuing 18 years ago with an impressive rehoming record of over 3,000 animals. They needed help quickly to replace their old vehicle which had reached the end of the road, and we were honored to help.
"We bought the car!!!," co-founder Jelena Šerić said happily as she put party hats on some of the rescued animals to celebrate the big moment. "It's a used, red Citan. The mechanic examined it today and he says it's great, we will only need to buy new tires, change the oil and do a wheel geometry alignment. I already drove it today."
Weeks ago, when Jelena first contacted us, she explained their situation. "We are desperate for help with a new car. Our first two cars, which were both used for the purpose of rescuing, were given by our other co-founder Agneza Lešdedaj. The second car reached more than 500000 km due to rescuing and driving animals to vets or their loving homes. But it will no longer pass inspection and is not safe to drive it any longer, especially long distances, which we must cover in order to drive animals to adopters. The sanctuary is placed around 40 km away from the capital, in the countryside, with no neighbours, due to the safety of our animals, and low prices for real estate. Dogs and cats are living in the house, which is also a big financial toll as the house is being regularly destroyed by the number of fosters going in and out. It needs to be reinvested in all the time. Also, when some of the farm animals are ill and need constant care and a warm place during wintertime (though all the stables we built are insulated) and they are small enough to fit the house, they stay inside."
Blue Cross had managed to raise some of the funds for the replacement vehicle, and Harmony Fund kicked in the rest so that they could drive away with this used Citan which will enable them to continue the rescue work without a transportation crisis. It's a pleasure to work alongside underdog rescue teams like this one, and we thank you all for your donations which make this work possible.
OUR WEBSITE: www.HarmonyFund.org

Source: https://www.facebook.com/354155423409147/posts/3717770749803..
Facebook Comments