Gorgeous Bag Helps Rescue Animals. Artist Amy Luwi..
GORGEOUS BAG HELPS RESCUE ANIMALS
Artist Amy Luwis has done it again with this sweet and spacious bag. Proceeds help benefit Harmony Fund's international animal rescue mission.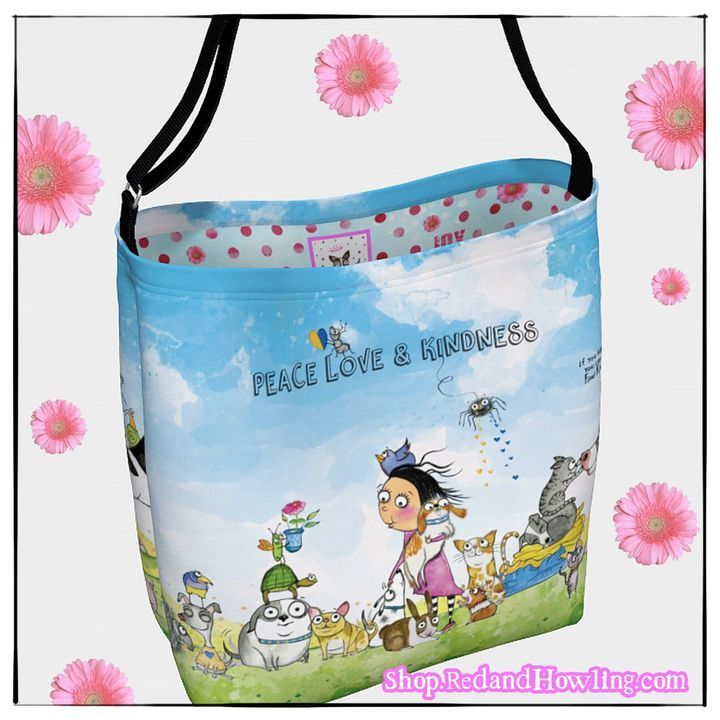 BACK in Stock! My very first ever handbag. I must say, this bag is ADORABLE!—whimsical and fun with a heartfelt message. (artwork is from my "Peace Love Kindness" Ukraine print (a portion of profits from both this handbag and the print are donated to HarmonyFund.Org!).
Link to handbag: https://shop.redandhowling.com/collections/limited/products/peace-love-kindness-handbag
I only have a few of these bags available (I buy them in small quantities because they take a long time in production the more bags I order).
I searched for a long time to find a manufacturer that could print on the inside of a handbag. It's ridiculously important to me that things be lovely from all angles. You know what it is like to find a lovely handbag, coat, etc. only to be disappointed by its drab interior, cheap lining or sloppy finishing.
I had a lot of fun adding little doodles and words all over the inside of this bag. It will make you smile!
a few happy customers

"I have bought t-shirts and mugs and a tote bag and pre-ordered the pocketbook. Great quality on everything. I love animals and adore the artwork and the positive sayings that go with it. So many people have complemented the items I've purchased so far. I always tell them about Red and Howling." —Karyn B.
"My New Fav! I love every item I purchase from Red & Howling, but must confess, this is my new fav. Soft, stretchy & functional "— Mary

Source: https://www.facebook.com/photo.php?fbid=571322907687168&set=..
Facebook Comments