Pet Adoption 101: Capturing Great Furkid Photos
How to take great photos of your furkids for PetFinder.my adoption profile
How many times have you put up adoption photos on a million different websites, Facebook, Twitter and every side of the toilet wall you can find, but still no one calls up to express interest in your furkids? Youíre so frustrated, and are on the verge of paying someone to adopt your furkids!
This article will not win you any prize in Nat Geo photography contest, but it will help you attract more potential adopters to click on your furkidsí profiles. Remember, there are hundreds if not thousands of similar if not cuter furkids out there; itís just like a marketing strategy, you have to publicize, publicize and publicize.
Itís not that difficult, really. In this article I will demonstrate how to achieve the end result thatís both flattering and attractive using tools that you have — be it a camera phone, compact camera or advance DSLR.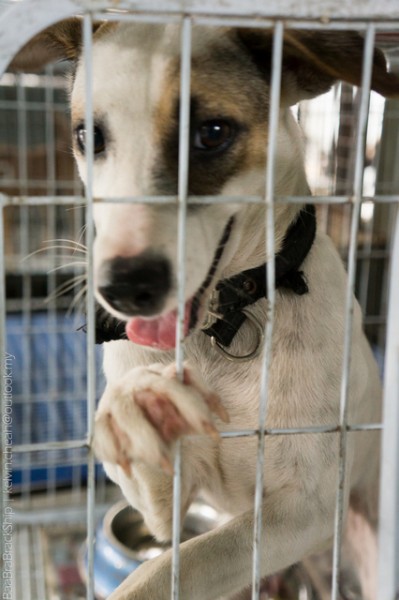 Letís look at the first photo. (Disclaimer: I donít normally take bad photos, but I did this for the sake of PetFinder.my =P) It's a handsome looking dog, good light, great camera, so why is it itís a bad photo for adoption profile? First, personality. Every animal has his/her own personality. In this photo, it shows that Ben (the dog) is unsure, a little nervous maybe, and doesnít look friendly to people. If this photo goes up on Facebook, most people will comment: ďKesianÖĒ ďPity the dogÖĒ ďSo SadĒ; and Ben still wonít get adopted.
Get to know your animals, if they are playful, take a photo of them playing, if they are calm then take a photo of them studying poems beside the window or something.
Background always comes first in my animal photography. With clean and uncluttered background you will be able to make your furkids stand out even more.
Props are good, but exercise moderation. Make sure your furkids are clean, groomed and no poo is sticking on any part of their body.
Lights
My lights are all natural light, and itís free! I choose my light carefully; I shoot after 2pm when the light is softer and warm. When you shoot outdoor, you will have enough light to freeze motion as well. We donít want to see a blurry mess of you animals, do we? Get your furkids out of the cage; get them under the sun because sunlight is the best natural lighting, I don't encourage flash light as the animals donít respond very well to surprises like that and you will most definitely get the deer-in-the-headlight pictures. Donít photograph them behind the cages for very obvious reason; we donít want to encourage caging and chaining of animal too!
Outdoor
Shoot outdoor, not inside a cage. Bring your furkids for a walk, thatís the best time to take photos of them playing, discovering, making new friends, rolling in the mud. If youíre confident, let your furkids loose, let them enjoy the free world!
Outdoor is guaranteed to have busy background, try to get your furkids as far as possible from the background, or move around. Patience is the key, furkids are not human, you will have to spend some time to get the shots that you want.
Clean and Simple
Iím not a huge fan of decorating my photos with stickers and caption. However occasionally I do come across some really talented artist with tastefully done up photos with captions in them; I said captions, not essay. You can put up your petís details in there but make sure they donít distract.
Angle of Shooting
This is probably subjected to your creativity but I always shoot at eye level to the animals I'm shooting. Work that squat and your knees! Get down and get real close! Shooting from top bottom isn't very flattering to the animals as it compresses the head to the lower body and they seem shorter/flatter than they really are.
Retouching
Let's be honest, I have a day job, then I have a part time job, then I have to clean up after my pets; the more time I spend editing, the less time I get to shoot. Retouching is not critical for PetFinder.my adoption profiles. Not showing off, just a little proud of myself that most of my photos are not retouched in anyways =D Just some quick and dirty 5 seconds editing to adjust some brightness and contrast would usually suffice (I'm very impatient and lack of knowledge in professional editing if you really have to know why).
Kesimpulannya (I love that classical ending in Bahasa Malaysia essay ending), these are the things you have to look out for when creating an attractive pet adoption profile photos:
1.††††† Background (clean)
2.††††† Props (few)
3.††††† Natural light (soft warm light)
4.††††† Shoot outdoor (natural environment)

5.††††† Clean and simple (designs and caption)

6.††††† Angle of shooting (eye level)
7.††††† Retouching (quick)
You may want to get assistance from your family members or your friends, safety of your animals always comes first!
Most importantly, your photos have to be able to provide potential adopters a positive impact, you may be tempted to post really gory photos of your furkids to gain sympathy, but at the same time they will turn away many potential adopters. Exercise caution, bones and blood, are my kryptonite.
* Again this guide is not absolute, fanboyism of any kind will not be tolerated (Sony iz ze best!)
** All animals shot above are from SPCA Selangor and they were all adopted
*** You may drop me a message on my Flickr page at http://www.flickr.com/photos/baabrabrackship/



Facebook Comments