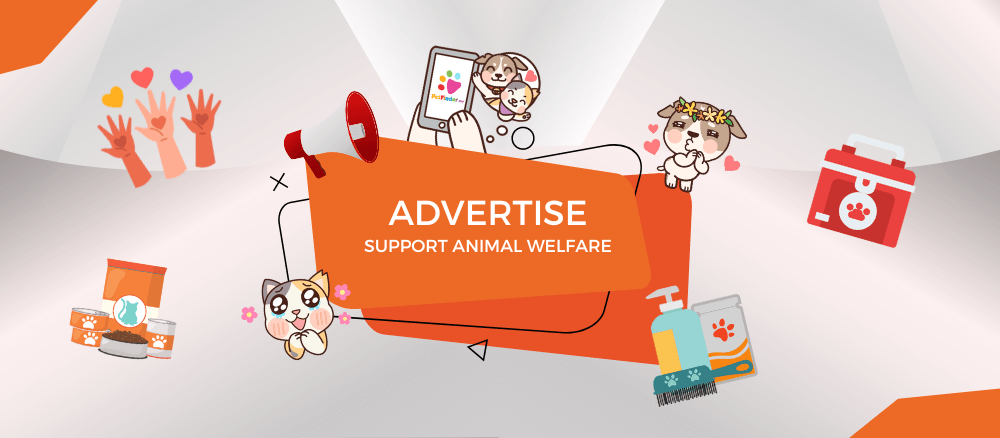 Supercharge Your Sales & Brand Visibility
Ignite your sales and unleash your brand's roar with PetFinder.my, Malaysia's leading animal welfare platform.

Since 2008, our platform has been a game-changer, revolutionizing the rehoming of stray animals, enlightening pet owners with valuable insights, and forging unbreakable connections among fellow animal enthusiasts.

Now is the time to soar to new heights. Embark on an exhilarating journey that propels your sales, solidifies your presence, and leaves a lasting mark on the hearts of animal lovers across Malaysia!
How PetFinder Can Transform Your Business
Animal Lovers

500,000

Featured Pets

200,000

Happily Adopted

69,000

Rescuers & Shelters

26,000

News & Articles

110,000
Unleash the Power of Targeted Audiences and Active Consumers

By harnessing the unrivaled potential of PetFinder's vast user base, you'll effortlessly reach the right people who are genuinely interested in your products or services. Our platform ensures your marketing efforts land directly in the laps of eager buyers.



Command Prominence Across Web, App, and Social Media Channels

With PetFinder, you'll dominate the digital landscape, as your brand gains unmatched exposure across our seamlessly integrated web, app, and social media channels. Say goodbye to hiding in the shadows and hello to captivating your audience wherever they are.



Discover Creative and Cost-Effective Advertising Options

We believe in making your advertising endeavors both imaginative and pocket-friendly. With PetFinder, you'll uncover an array of innovative advertising solutions that will captivate hearts, minds, and wallets without breaking the bank.



Convert Animal Lovers into Loyal Customers

PetFinder isn't just a platform; it's an experience. Engage with a community of fervent animal lovers who are primed to become your loyal customers. Our interactive features and user-friendly interface ensure a seamless transition from admiration to action, driving sales and enhancing customer loyalty.



Fortify Your Company's Goodwill and Branding

Aligning your brand with PetFinder not only amplifies your business, but also demonstrates your commitment to animal welfare and compassion. By associating with Malaysia's leading animal welfare platform, you'll build an unwavering goodwill and create an indomitable brand that resonates with your target audience.
Advertising Options & Creative Campaigns
We have a treasure trove of advertising options, each one meticulously designed to captivate your audience and deliver unparalleled results.

That's not all — we go above and beyond to create captivating campaigns that align seamlessly with your objectives, ensuring your brand stands out in the crowd.

Explore our most popular options:
Premium Banners

Prominent banners on desktop website, mobile website & app


Premium exposure on main pages & pet profiles


Excellent branding & consistent reach of animal lovers

Exclusive Brand Page

Exclusive feature page on desktop website, mobile website & app


Effective consumer education with instant call-to-action


Showcase brand products & connect with online store

Freebie Platform

Freebies, sample packs or gifts for pet owners


Complete simple form to redeem free items


Capture targeted, quality leads & convert to loyal customers

Adopter Starter Pack

Encourage pet adoption & save homeless animals


Acquire high quality leads & long term customers


Exclusive showcase page & robust redemption platform

Social Media Feature

Reach over 330,000 Facebook, Instagram & Twitter fans


Wide exposure & active engagement with animal lovers


Weekly photo or video post on social media platforms

Pet Profile Tips

Feature relevant product & educational tips on pet profiles


Context-sensitive ads, highly targeted audience


Link to corresponding web page or online store product
Kickstart Your Campaign Now
To get started or find out more, please complete the enquiry form below.



Copyright © PetFinder.my, 2008 - 2023. All rights reserved.