Why You Should Leash Your Dog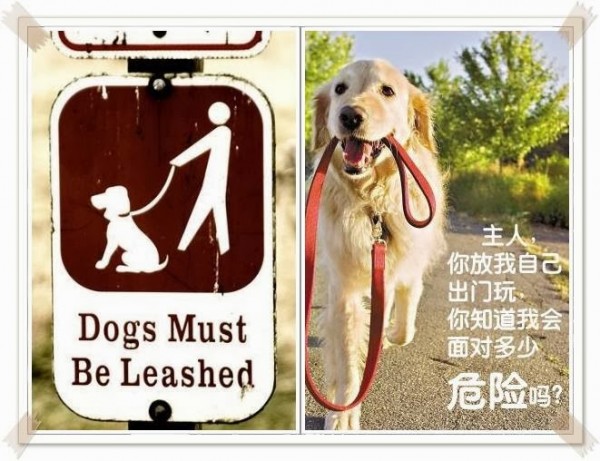 Recently we've noticed an increase in the number of missing dogs. The top reason why these dogs had gone missing is because the dog owner let the dog run loose outside the house compound to urinate and defecate without the owner's accompany. Do you ever think and know that this is an extremely irresponsible act?! As a pet owner you have the responsibility to care for the dog's safety and minimize the possibility for them to encounter danger. When you are letting them out by their own, have you ever think about the consequences?
最近好多起狗狗遗失案,而当我们为狗狗找到主人,并询问起狗主狗狗遗失的原因时,多半原因是: "我放狗狗自己出去大小便结果他就没回来了".您知道吗? 这是非常不负责任的行为! 身为主人您有义务及责任保护狗狗的安全及将他面对危险的几率降到最低。当你自行放他/她出去时,有没有想过会有什么后果?
狗狗可能面对的危险有:
The dangers that dog might be facing when they are outside home compound and by their own:
1. 被车撞, 就算狗狗会看车, 但是意外总是会发生的, 不是吗?
1. Car accident – Even the dog is capable to cross road and watch out for car, but accidents might happen anytime
2. 被新奇的东西或其他动物吸引而不知不觉走出自己熟悉的地方范围, 导致找不到回家的路
2. Lost of direction – Dog may be distracted by new things or animals and walked out of the area that they are familiar with and can't find the way back home
3. 被市政局捕杀! 无论是什么品种的狗只,无论狗狗有没有戴着狗牌,只要市政局发现狗儿没有被主人牵着或自己在外溜达,都有权利捕杀该狗狗!
3. Caught by local council – No matter what breed it is, no matter they have license or not, once the local council saw the dog loitering alone without leashed or without the owner by the side; they have the right to capture the dog!
4. 可能在附近邻居的垃圾桶翻找食物或捣蛋,导致居民反感后喂食狗狗吃毒药或下毒手
4. Poisoning – Dog might look for food at neighbour's rubbish bin, messed up the area and neighbours might dislike the dog and poison them
5. 如果是名种狗狗的话将会被人偷窃用作繁殖用途或贩卖
5. Stolen – Pure breed dogs will be stolen for breeding purposes or resell
6. 如果是公狗没结扎的话,又加上附近有母狗发情了,将会和其他公狗殴斗争母狗,导致遍体鳞伤,也导致母狗怀孕进而增加流浪猫狗的数量
6. Dog fight and injury – If your dog is unneutered male dog and met with other females dog on heat, they will fight with other male dog to mate with the female dog and cause serious injury. Once the female stray dog pregnant it will increase the number of stray animals too!
7. 如果是母狗没结扎的话,又正值发情期,将会吸引大批公狗前来要求交配,当您发现有一天她大腹便便回家时请不要太惊讶
7. Unwanted pregnancy – If your dog is unspayed female dog on heat she will attract lots of male dogs for mating. Do not be surprised if you see her pregnant one day when she's back home!
请不要觉得我们夸大其词,以上种种都是真实案例,许多狗主在狗儿走失或死亡后才后悔万分,表示当初后悔让狗狗自行外出,不过一切都太迟了…如果您看了这篇文章,希望您还没在悲剧发生前即刻做出改变,否则承受严重后果的,是您最爱的宠物。
We are not being exaggerated but above mentioned did happened before. Many dog owners felt regretted for the death or lost of their dog when they let the dog out by themselves, but it's too late… If you are reading this article and you are one of them that letting your dog out by themselves, please make changes before the disaster happen! That's not you that bear the horrible consequences, but your beloved pet!
狗儿外出时一定要有主人陪伴在旁 – 请使用牵引绳拉着您的狗狗 – 早晚带着狗狗散步兼大小便, 或训练他/她在家中大小便 – 小型犬应养在住家内并时刻把门关着
DOG MUST BE ON LEASH OR HAVE COMPANION OF OWNER BY SIDE EVERYTIME THEY GET OUT OF HOME COMPOUND – BRING YOUR PET FOR PEE AND POO DAY AND NIGHT OR TRAIN THEM TO URINATE AND DEFECATE AT HOME – SMALL BREED DOGS HAVE TO BE INSIDE HOME AND KEEP THE DOORS CLOSED EVERYTIME.
这是饲主应履行的最基本责任,请大家齐齐分享此则文章,让我们创造一个更负责任的公民社区,教导正确的养狗观念, 以及避免更多狗狗遭遇不幸。
These are the very basic responsibilities of an owner, please help to share this article to create a more responsible community and also spread the correct concept of rearing a pet to avoid more pets from suffering.
希望护生园 上
By H.O.P.E


Source: http://hopesjb.blogspot.com/2014/02/must-read-for-all-dogs-o..
Facebook Comments