Dr Jane Goodall Will Be In Malaysia Next Week Here..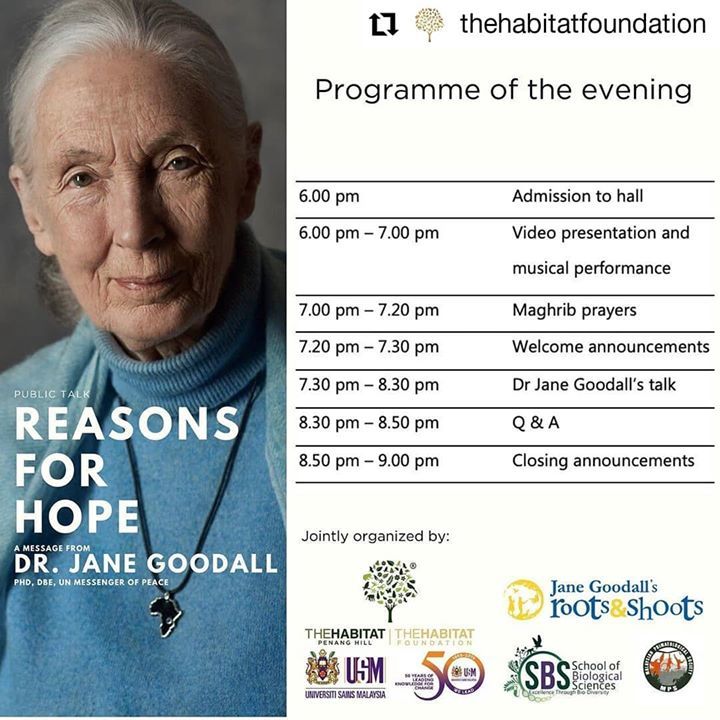 Dr Jane Goodall will be in Malaysia 🇲🇾 next week! Here is a reminder or her talk in Penang, organised by our community partner #thehabitatfoundation
#Repost @thehabitatfoundation
• • • • • •
Dewan Tuanku Syed Putra, USM
Are you joining us for Jane Goodall's public talk on Saturday 23 November 2019 at Dewan Tuanku Syed Putra, Universiti Sains Malaysia at 6 PM?
This is the itinerary of the evening. Do plan your visit of the day accordingly!
Please continue to follow our Facebook Events page for more logistics announcements. —————————————————————– Admission to the public talk is free, but pre-registration is required: http://tiny.cc/wziaez
#thehabitatfoundation #thehabitatpenanghill #conserveeducateinspire #IAmWithJane

Source: https://www.facebook.com/rootsandshootsmy/photos/a.936424316..
Facebook Comments