Graphic Images A Truly Inspirational Recovery That..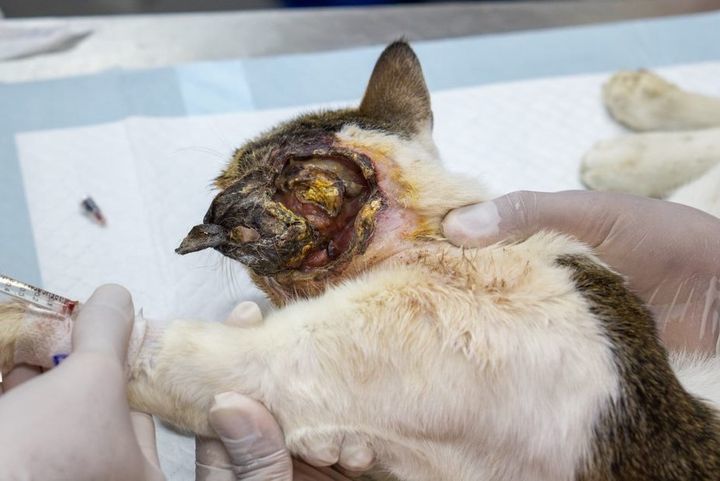 ⚠Graphic Images⚠ A truly inspirational recovery that we will never forget❗❗
𝗧𝗵𝗶𝘀 𝗶𝘀 𝘄𝗵𝗮𝘁 𝗮 𝗱𝗼𝗻𝗮𝘁𝗶𝗼𝗻 𝗳𝗿𝗼𝗺 𝘆𝗼𝘂 𝗰𝗮𝗻 𝗱𝗼 𝗳𝗼𝗿 𝗮 𝗰𝗮𝘁 𝗹𝗶𝗸𝗲 𝗝𝗼𝗻𝘁𝗼. It can bring them back from the brink of death. Please consider becoming a lifesaver today for those who have no one else: https://links.soidog.org/become-a-lifesaver 🙏🧡
When Jonto arrived at Soi Dog, his whole ear was full of maggots and was decaying. He had septicaemia and severe anaemia. 𝗪𝗲 𝗰𝗮𝗻𝗻𝗼𝘁 𝗶𝗺𝗮𝗴𝗶𝗻𝗲 𝗵𝗶𝘀 𝗽𝗮𝗶𝗻. 𝗛𝗲 𝘄𝗮𝘀 𝘀𝗼 𝘀𝗶𝗰𝗸 𝗮𝗻𝗱 𝘄𝗲𝗮𝗸. The ear canal was so horrendously infected that poor Jonto needed several wound reconstruction surgeries.
He was in our cat hospital for months. But the Soi Dog team was there with him every step of the way and cheerleading for his recovery. Without kind people like you who enable injured street cats to get hospital care, surgeries, medicine, shelter and round-the-clock care, Jonto's life would certainly be over by now. 😥😥
He may have lost his ear but Jonto got his life back. Joyful Jonto is so happy to be alive. After the dreadful ordeal that he has been through, we simply cannot get over his ultra-friendly and adorable nature. Jonto is still recovering from his multiple surgeries. 𝐇𝐞 𝐧𝐞𝐞𝐝𝐬 𝐲𝐨𝐮𝐫 𝐡𝐞𝐥𝐩. 🧡🐾🧡
𝗬𝗼𝘂 𝗰𝗮𝗻 𝗵𝗲𝗹𝗽 𝘂𝘀 𝘀𝗮𝘃𝗲 𝗸𝗶𝘁𝘁𝗶𝗲𝘀 𝗹𝗶𝗸𝗲 𝗝𝗼𝗻𝘁𝗼 𝗳𝗿𝗼𝗺 𝘂𝗻𝗯𝗲𝗮𝗿𝗮𝗯𝗹𝗲 𝘀𝘂𝗳𝗳𝗲𝗿𝗶𝗻𝗴: https://links.soidog.org/become-a-lifesaver

Source: https://www.facebook.com/108625789179165/posts/5402057643169..
Facebook Comments