Known For The Crescent-Like Golden Patch On Their ..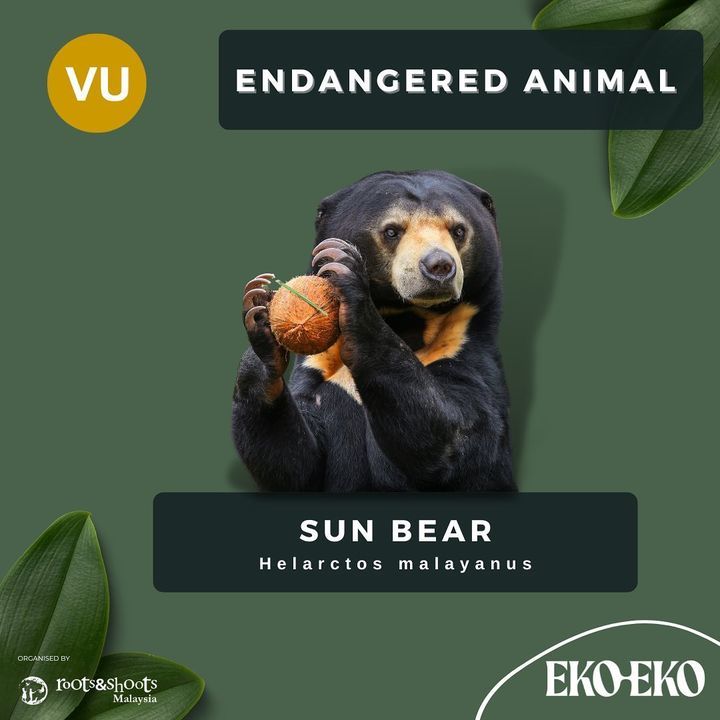 "Known for the crescent-like 🌙 golden patch on their chest which resembles the rising sun 🌅, the Sun Bear.
No two golden marks are the same, much like our individual fingerprints 👉.
One of Sun Bear's diet consist of Honey🍯. They have tongue measuring 20–25cm long which helps in the extraction of honey from bee 🐝 colonies, earning them the nickname ""Honey Bear"" or ""Beruang Madu"" in Malay.
🐻 Sun bears live in tropical lowland forests 🌳and is one of the bear species that can be found in South East Asia.
Information Reference : https://wwf.panda.org/discover/our_focus/wildlife_practice/profiles/mammals/sun_bear/, https://www.nationalgeographic.com/animals/mammals/facts/sun-bear, https://www.bsbcc.org.my/sun-bear-facts.html
Image Credits: https://wellingtonzoo.com/assets/Uploads/ShareImage/IMG-6699-copy.jpg
Image credits: https://www.sunbearsurvival.org/about-sun-bear-survival.html
#rootsandshootsmy #Wildlife #Photography #rootsandshoots #MalaysiaWildlife #Nature
#Volunteering #TreePlanting
#Youths #Malaysia #Sustainability #Biodiversity #Environment #Climateaction #Climatechange #Makeadifference
#Ekollforchange #Youthmovement #EkoEko
#RASMA

Source: https://www.facebook.com/924104410951949/posts/5768872283141..
Facebook Comments