Rescues & Cruelty Cases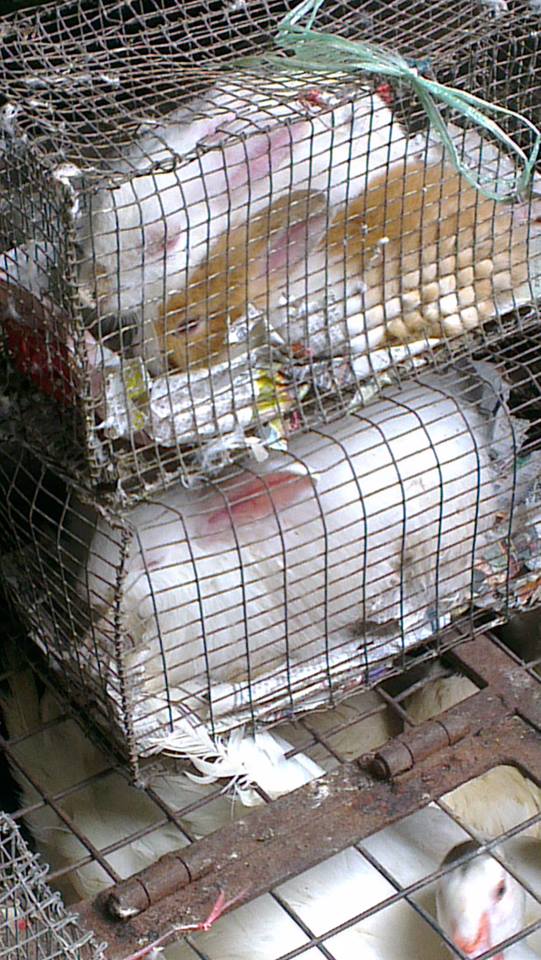 In May 2013, the SPCA Inspectorate Team received yet another complaint regarding the selling of domestic animals in a wet Market here in Kuala Lumpur. The Team has been receiving similar reports on cases such as this in places all over the Klang Valley while for this case, the Team had visited the same Market a few times. When the Team arrived at the scene recently, the Vendor had two small puppies and and three rabbits in tiny separate cages, stacked on top of cages filled to the brim with live chickens and ducks.
On closer inspection, the puppies were full of fleas while the rabbits looked like they had some eye infection. When asked why are the cages so small, the Vendor said that due to space constraint as their stall is rather small and they were just helping a friend whose dog had given birth.
Naturally for many when they see the animals in such conditions, they will resort to buying them with kind intentions of rescuing the animals out of the current predicament. However, this may not be the best solution as it creates a vicious cycle for the Vendor to allow their dogs to continue breeding and they will continue to sell them thinking there is a demand for them. Also, in many cases after these animals were bought out, the Rescuer would have no means to care and to house them, thus resulting in more problems.
Without the new Animal Welfare Act enforced, there is currently no legislation against buying and selling activities, however we do urge the Public to be aware of not creating the accidental cycle.
SPCA Selangor believes that change can start; and a better, safer world for the animals can be achieved with a better educated and animal welfare-conscious Public.

Source: http://www.facebook.com/photo.php?fbid=10151761225716209&set=a.10150239905521209.353952.44640111208&type=1&relevant_count=1
Facebook Comments