Primal Freeze-Dried Formulas
Primal Freeze-Dried Formulas
Primal Freeze-Dried Formulas are produced using only the freshest, human-grade ingredients. Our poultry, meat and game are antibiotic and steroid free without added hormones. We incorporate certified organic produce, certified organic minerals and unrefined vitamins to fortify our complete and balanced diets. All Primal Freeze-Dried Formulas contain fresh ground bone for calcium supplementation. This combination of ingredients offers optimum levels of the amino acids (protein), essential fatty acids, natural-occurring enzymes, and necessary vitamins and minerals that are the building blocks for your pet's healthy biological functions. All of the ingredients found in Primal Freeze-Dried Formulas are procured from ranches and farms throughout the United States and New Zealand that take pride in producing wholesome raw foods through natural, sustainable agriculture.
Primal Freeze-Dried Formulas offer you the convenience and benefits of a well-balanced, safe and wholesome raw-food diet without having to grind, chop, measure or mix the ingredients yourself. At Primal Pet Foods, we have taken the time to carefully formulate and produce a nutritious, fresh-food diet that is easy for you to serve and delectable for pets to devour. The proof is watching them lick the bowl clean while thriving happily and healthfully!

| | |
| --- | --- |
| | LIKE Avant Pet's FB page now to get your FREE Sample Pack! |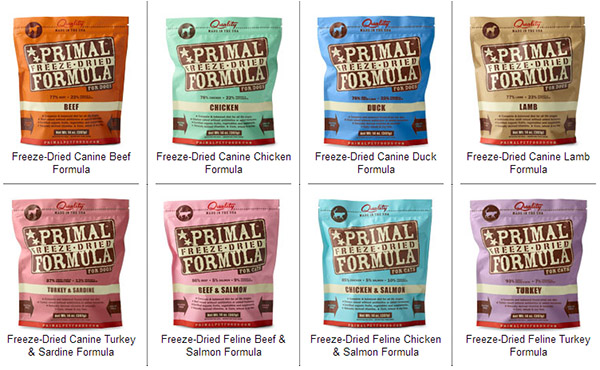 Ingredient Benefits
All products in the Primal Pet Foods food and treat line contain 100% USDA, human-grade, all-natural ingredients. Primal Formulas, Mixes and Grinds incorporate fresh, antibiotic- and steroid-free whole muscle meat, organ meat and meaty bones with no additional hormones. This combination of high-quality protein provides the essential amino acids, fatty acids, active enzymes and natural-source calcium necessary to support your pet's overall health.
Primal Formulas and Mixes incorporate wholesome, certified organic fruits and vegetables providing essential food-based vitamins and minerals. The addition of certified organic unrefined supplements in our Formula line offers your pet the benefit of a complete and balanced diet without the addition of synthetic vitamins. All of the ingredients contained in the Primal products line are purveyed from suppliers who are recognized for their superior-quality, human-grade ingredients and the highest standards of safe food handling.
Primal Treats are produced using antibiotic- and steroid-free meats, poultry and game with no additional hormones from the United States and New Zealand. All treats in the Primal line are single-source protein and contain only natural ingredients without the use of preservatives.
By offering your pet Primal Pet Foods raw food formulas, you are providing to them a diet that most closely mimics their natural eating habits as they were in the wild. Through the use of 100% digestible food products, Primal Formulas offer the nutrients essential to life in a superior, bio-available composition. Through better digestion and superior assimilation of food derived nutrients, your pets will live happier, healthier and more vibrant lives.

Meats, Game and Poultry

Our products feature 100% human-grade, antibiotic- and steroid-free meats, poultry and game raised in the United States and New Zeland without added hormones.
Fruits and Vegetables

Products contain a variety of 100% certified organic, human-grade, wholesome fruits and vegetables.
Supplements

Products contain 100% certified organic, unrefined, nutrition-packed supplements that offer your pet additional benefits to immune, circulatory and digestive health.
Feeding
It is important to only serve Primal raw foods when completely thawed. Frozen foods can be difficult for animals to digest. Never microwave any pet food. Microwaves cause the fat molecules to radically change, making fats less digestible, and ultimately they can become harmful to your pet's long-term health.
| | |
| --- | --- |
| | LIKE Avant Pet's FB page now to get your FREE Sample Pack! |
Facebook Comments