Hanko The Feline Hero Is Recovered And Ready For A..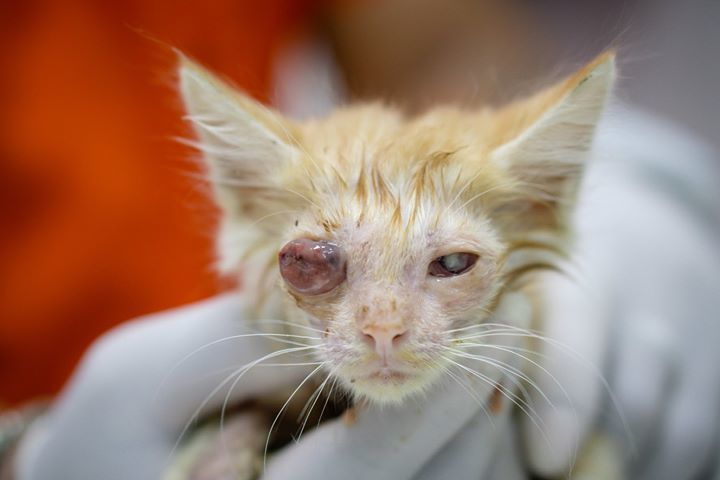 Hanko the feline hero is recovered and ready for adoption! Please help us share his incredible story.
Perhaps you remember this amazingly brave boy? Hanko came to us at the tender age of five weeks with severe eye issues caused by a chronic case of cat flu. He was completely blind and in desperate need of treatment.
We can hardly comprehend how a tiny blind boy like him could survive on the streets. He was so frail and surrounded by danger. For some kittens that come through our doors, it is sadly too late to save them. But not for Hanko. He was definitely not ready to give up.
Hanko's recovery was made possible by amazing animal lovers like you and his absolute determination to survive. Without such compassion, Hanko would simply have no future to look forward to. Find out more about our Care for Cats Club and saving lives here: https://links.soidog.org/save-homeless-cats-now
Hanko is doing better than we ever could have hoped for. As soon as he was strong enough, his eyes were removed to relieve his pain and discomfort. Since then, he has grown in size and confidence and absolutely loves to reach out a paw to play whenever he senses someone is close by. He's even grown a mini lion's mane to match his brave lion heart! 🧡🦁
What's more, Hanko is now ready for adoption. If you can offer Hanko the love and security of a forever home, please email our adoptions team at adoptions@soidog.org. He truly deserves it after everything he's endured, and anyone would be lucky to have this little hero join their family.
Hanko has come such a long way. If you are not in the position to adopt Hanko, please consider joining our Care for Cats Club instead. If you love cats and want to save more lives like Hanko, please become part of this magic today: https://links.soidog.org/save-homeless-cats-now
Thank you for caring about homeless, helpless animals like Hanko.

Source: https://www.facebook.com/SoiDogPageInEnglish/photos/a.137025..
Facebook Comments