Acres Charity Gala October 2022 By Acres
ACRES CHARITY GALA 2022, YES YOU READ IT RIGHT!
Can you believe that the last charity gala we had was in 2019? We've had to wait 2 years to organise our biggest fundraising event again!
Happening Saturday, 8 October, 6pm onwards at One Farrer Hotel.
Hosted by actor & model Paul Foster, with free flow of soft drinks, wine, beer, a scrumptious cruelty-free 8-course vegan feast, Jack & Rai's live music and auctions, it will be a night to remember!
Get your tickets today!: bit.ly/ACRESGALA2022
$198 per seat
$1,888 per table
Saturday, 8 Oct 2022, 6.00pm onwards
One Farrer Hotel, Grand Ballroom
Host: Actor & Model Paul Foster
#acres
#animals
#rescue
#openhouse
#tour
#wildlife
#guide
#weekend
#saturday
#charity
#shelter
#AnimalWelfare
#Singapore
#AnimalsMatter
#donate
#supporters
#volunteer#
#SgWildlife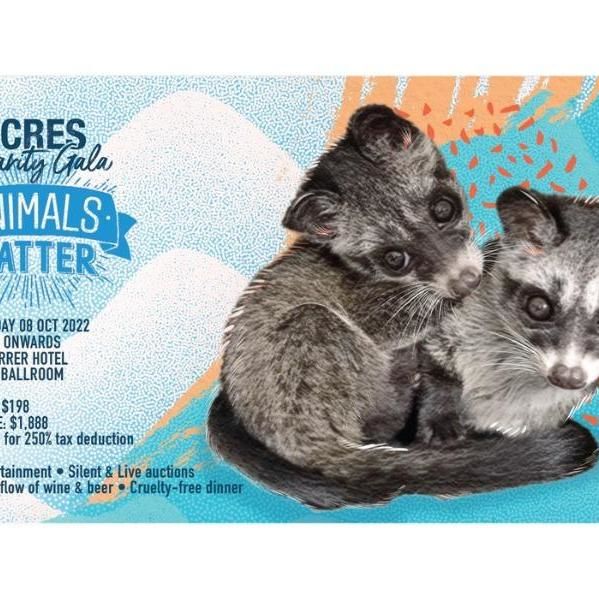 ACRES GALA DINNER: WE HAVE MISSED YOU FOR TWO YEARS! From a monthly average of 900 calls to our hotline pre-Covid, we now handle 2,000 cases a month, resulting in helping over 300 wild animals a month! This is made possible because more individuals like you care, calling for help when you witness a….

Source: https://bit.ly/ACRESGALA2022
Facebook Comments