Rescued Pup For Adoption Eng. 821. _. 30. Meet The..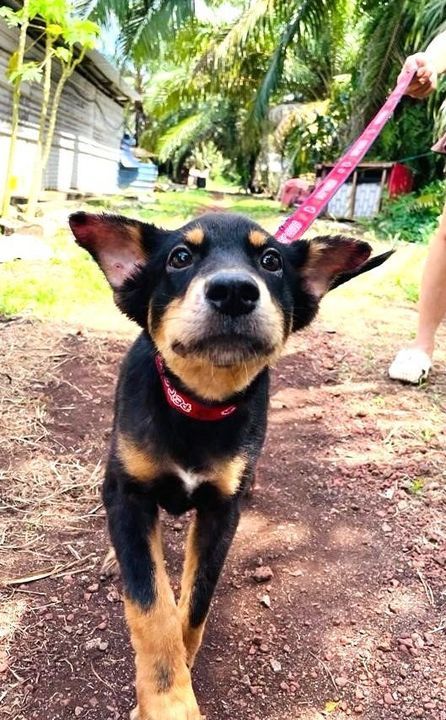 🐶 rescued pup for adoption (eng 👇🏻)
腼腆软甜的小三妹 🐶
(是小三妹不是小三
她是这个星期天会去领养会找家的其中一个孩子 ❤️
园区在约两个月前收留了小三妹
当时那边的爱心哥哥说,不知道是哪个没良心的把她丢在工地,很瘦很小又全身都是皮肤病,看起来破破烂烂又臭臭的 ….
在工地要找吃难上加难,突然又来了个小家伙来抢资源,工地的其他成年浪浪当然不放过小三妹,时常都会打她、欺负她
当时这个小宝宝实在是四面楚歌,满脸哀伤
不知道该如何生存下去
在园区两个月的照顾后,小三妹焕然一新!
皮肤病完全康复,毛发漂酿漂酿
也变得开心开朗,已经准备好被人类迎娶回家了 ~
这是小三妹首次出征户外领养会
愿好运降临,让她幸福回家
来临 8月21 领养会详情: https://bit.ly/3dD9SPN
希望大家帮狗狗们大力分享
_
让我们有能力照顾更多像小三妹一样的浪孩子
园区欠下巨额医药费,加上每月开销今年暴涨至马币30万 😞
迫切需要更多朋友爱心护航我们的护生工作 🙏
(捐款可扣税)
捐助方式 >>> https://bit.ly/3zwfXGg
…………………………………
Meet the shy and sweet little San mei 🐶
She is one of our rescued furries who will be attending this Sunday's adoption drive ❤️
Our shelter took in this little baby about two months ago.
At that time, one kind man over there said that he didn't know which evil human had left this puppy on the construction site. She was so thin and small and had bad skin diseases.
It was so difficult to find food at the construction site. Of course, the other adult strays on the construction site did not spare this poor puppy, they often beat her and bullied her.
At that time, little Sanmei was really helpless and sad, and didn't know how to survive.
After being taken care of in our shelter for two months, Sanmei has a new look!
Her skin disease is fully recovered and has beautiful, shiny fur now.
She has also become happy and cheerful, and is ready to look for her hooman family.
This is the first time for Sanmei to attend the outdoor adoption drive, wishing her the best of luck and get a good home soon!
Coming August 21 Adoption drive details: https://bit.ly/3dD9SPN
Please help our rescued furries to share & shout out.
_
Let us have the ability to help more helpless homeless animals like the little Sanmei.
Our shelter owes a huge amount of medical expenses, and the monthly expenses have skyrocketed to RM300,000 this year! 😞
We really need more help and support, any contribution would be much appreciated 🙏
(Donation to HOPE is tax-deductible)
How to donate >>> https://bit.ly/3zwfXGg

Source: https://www.facebook.com/134246123288268/posts/5419388218107..
Facebook Comments