Upsetting Images Do You Remember Mazuna? Its Been ..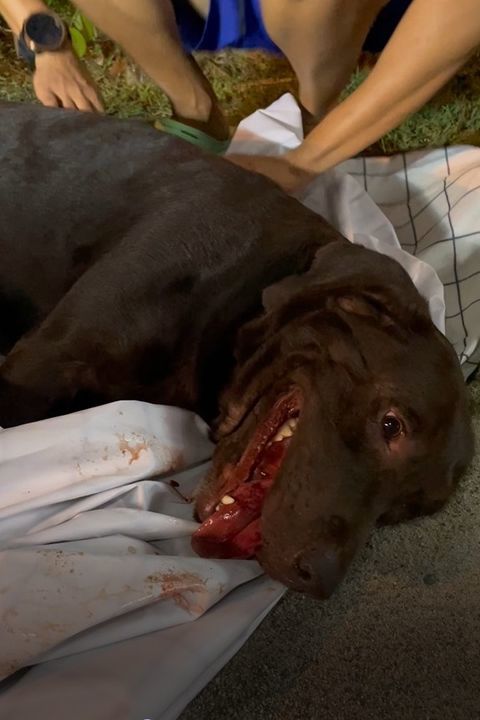 ⚠️ Upsetting images ⚠️ Do you remember Mazuna? It's been a little while since we shared her rescue story with you. Mazuna was a victim of a road traffic accident. Despite hitting her at great force on a busy road, the driver didn't even stop to check on her. Instead, she was left in paralyzing fear and pain – all alone. 😔
Just by sheer luck, one of our vets happened to be nearby and found Mazuna on the side of the road. They immediately contacted our Emergency Response Team who rushed to the scene. It must have been such a relief for Mazuna to know that there was someone to help her.
On arrival at our hospital, an X-ray showed that Mazuna had sustained a fracture to her humerus bone (the bone that connects the shoulder and the elbow). It was going to be a long recovery for Mazuna, and she needed at least two months of bed rest following the surgery to mend her fracture.
Being the champion she is, Mazuna took the recovery all in her stride. We are thrilled to share that Mazuna has made a remarkable recovery and is back on all four legs. As you can see from her photos, there's nothing Mazuna loves more than a tennis ball. Luckily for her, she has an abundance here at Soi Dog!
We hope that big smile of hers brings you joy. After all, it's only through the kindness of animal lovers like you that we are able to help dogs like Mazuna. 🥰 Your support is truly lifesaving for so many, including the gorgeous Mazuna. We dread to think what would have happened to her if she was left all alone.
Sadly, there are many other inured dogs that come through our doors every single day. Will you help more animals like Mazuna? Please click here: https://links.soidog.org/help-an-animal-like-mazuna.

Source: https://www.facebook.com/416170950540747/posts/4399602181618..
Facebook Comments