Homeless Pets Transform Into Pokémons!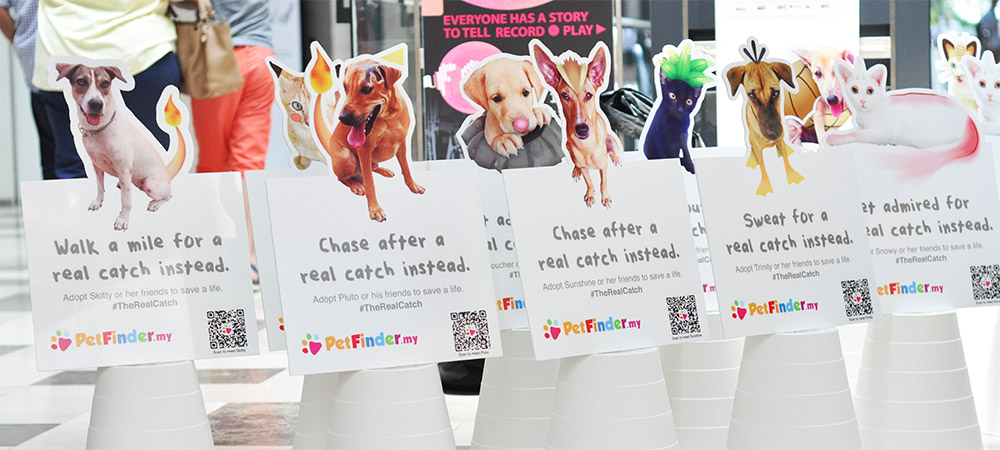 BREAKING NEWS — Malaysia's cutest homeless animals have transformed into sweet little Pokémons and infiltrated the coolest malls in town — Berjaya Times Square, Sunway Pyramid, 1Utama & Publika!

From August 13th 2016, the malls will install our Pet Pokémon standees at popular Poké Stops, to creatively raise awareness on pet adoption while players hunt high and low for virtual Pokémons.

Have you been walking miles and sweating over the game recently? Well, don't just settle for virtual catches. Why not venture out in search of loyal, lifetime furry companions as well?

We have #TheRealCatch for you — 11,000 homeless animals eagerly awaiting your love.





Campaign Photos & Updates

Thank you to the media for featuring us: The Star (Nation), The Star (Metro), MalaysiaKini, Sinchew, VOX Chinese, Pets 《宠物情缘》 and The Coverage.

Follow our PetFinder.my Facebook for live updates!




What's This Campaign About?

You mean, besides catching rare Pokémons and taking over Poké Gyms? =)

A brainchild of Naga DDB, this fun initiative in conjunction with the Pokémon Go buzz aims to raise awareness on pet adoption, creatively reminding the public that there are thousands of adorable homeless animals out there, and every adoption will effectively save a precious life.

We would like to sincerely thank our kind and compassionate venue partners for collaborating on this animal welfare campaign. Without them, our Pet Pokémon standees and posters would be homeless too.

Copyright © PetFinder.my, 2008 - 2022. All rights reserved.
Member Login


Reset Your Password
Enter your membership email and we'll send you instructions to reset it